There are loads of ways to get help if you need it, from quick questions to total emergencies. Here's how:


Self Help
Our new self-service hub enables you to resolve issues without having to call customer services. Get immediate solutions in just a few clicks! It's the same knowledge base our Customer Service Team uses to help diagnose and resolve your queries. It's very quick and easy to use so you can forget queuing on the phone completely.


Here is how it works…
Just login and click on 'Self Service Hub'. You will be taken to a knowledge base where you will find answers to the majority of your queries.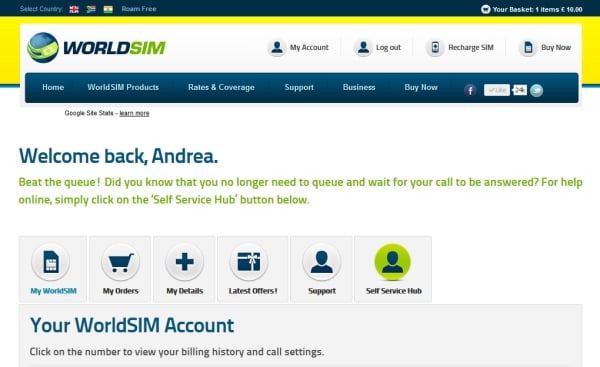 When the welcome page appears, click on the category of your choice, or simply complete a 'Quick Search'. Answers relevant to your query are displayed in alphabetical order. Simply click on the '+' to read more.

Step by step instructions will appear. The guidance shown here is the same guidance that you would receive from our Contact Centre. If for some reason your inquiry is not answered, there will be a link 'Submit Enquiry Form' that can be used to contact technical support.
Video Help
If you are new to WorldSIM, or if you are experiencing problems, our new video 'How To Guides' will help. These guides explain how to use your WorldSIM card, how to get the best possible savings and resolve common mistakes people make when trying to make calls.
View our videos:

How to use & troubleshooting
Manually selecting a network


24 Hour Customer Service
You will be pleased to know that all of our customer service representatives have had intense training to ensure that you receive a delightful customer experience. You can call us anytime, any day on UK: +44 (0) 20 8819 2557 or USA: +1 212 660 9969. Or contact us online; simply Login and submit a support ticket. Most queries are resolved within 1 hour.