8 Christmas Markets You Have To Visit!
With just 6 weeks to go till Christmas is upon us, many of us have already started our Christmas shopping. If you still have presents to buy then Christmas markets are great for getting some interesting gifts while having fun on a city break!
There are a host of Christmas markets all over the world, as well each with their own unique highlights which might include nativity plays, mulled wine, bands, ice skating, fair rides and an epic variation of delicious food. Of course no Christmas Market is complete without stalls – find hundreds of unique items that are perfect for gifts or for yourself. It's no wonder these Christmas markets attract thousands of people each year to Europe, USA, Canada and the Far East. These are our favourite Christmas markets around the world...
Quebec City's Canadian Christmas Markets
Between November 25th and January 5th, the Quebec Christmas markets host colourful and dazzling festive events. If you want a proper white Christmas when at a market, Quebec's Christmas market sits in a city guaranteed to offer snowfall. Wander around the snow-covered streets and you will find stalls with pretzels, biscuits, roast chestnuts and all kinds of chocolates and festive pastries.
At night, the market lights up with beautiful arrays of decorations hanging off trees around the market and city. You can attend many free concerts ranging from music to plays. You can choose from various markets in Quebec namely the German Christmas Market open from November 28th until December 14th, Jacque Cartier Region Market between December 5th and 7th, and the Old Port Christmas Market between the 25th November and the 5th January. Quebec is packed with loads of attractions including the World Heritage Treasure, stunning scenic landscapes and the St Lawrence River.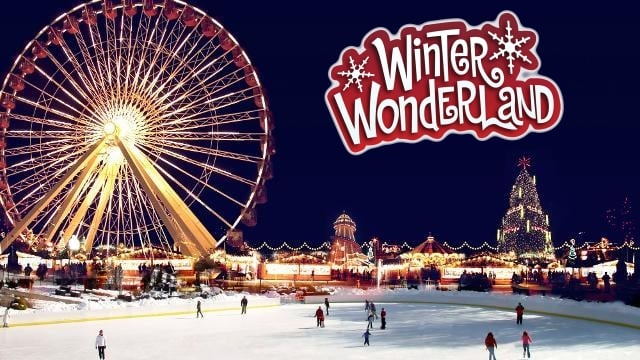 Winter Wonderland in London
From November 18th to January 3rd, Hyde Park plays host to a Bavarian style market with over 40 stalls. Most of the stalls offer handmade goods including jewellery, clothing, accessories and wares for the home. Food stalls capture the Bavarian taste with sausages such as Bratwurst. There are more traditional British snacks on offer such as mince pies and gingerbread and if you need a meal, expect lots of culinary menu delights.
The main attraction is the fairground complete with a big wheel and bumper cars. You can also have a go at skating on the ice rink, dance along while listening to some brilliant bands or be wowed at an extreme circus show where you will see a host of performers with rather unique acts.
While in London, you can visit many popular attractions such as the Millennium Wheel (AKA London Eye), Madame Tussauds Wax Museum, Buckingham Palace, Trafalgar Square and The Cutty Sark ship in Greenwich.
The Prague Vanocni Trhy
Within Prague's Christmas Market or better known locally as Vanocni Trhy, stalls offer unique gifts from handmade candles to jewellery. Kids will love the puppets for sale in brightly lit wooden huts and the Bethlehem Three Kings scene depicting the birth of Christ. The market runs from November 26th up to January 8th in Wenceslas Square. The festive magic gifts also include handicrafts, metal ware, winter wear such as gloves and scarves, and glassware. The Prague market offers barbequed sausages along with pastries. Their famous hot cake called a Trdelnik promises a salivating delight. A range of Czech beers such as Budvar and Pilsner Urquell accompany plenty of warm drinks. The Old Town Square contains an animal stable for the children to pat and stroke donkeys and goats. Against the night skyline and smothered in beautiful lights, the Christmas tree impressively lights up the square. While you are there try to squeeze in a visit to Prague Castle and Charles Bridge.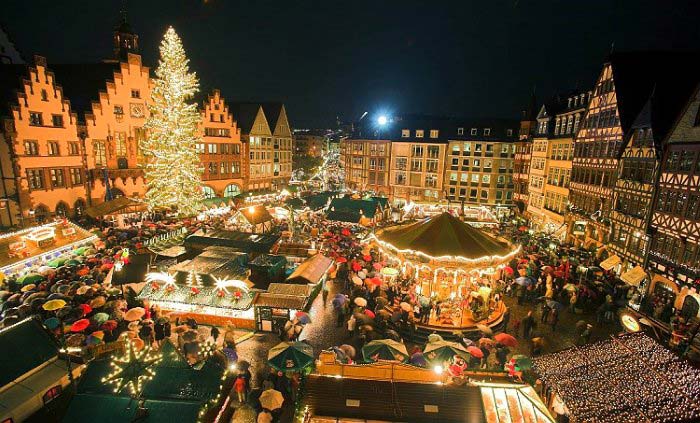 Columbus Circle in New York
The Big Apple comes alive between November 30th and December 24th with a twinkling festive magical mix of music and gift stalls. The market at the Central Park West intersection twinkles with decorative lights unmatched by many Christmas markets. This Christmas market offers gifts from skilled artists and designers.
Highlights include the popular stagecoach ride, stalls with tasty chocolates and truffles, homemade jewellery gifts and wooden puzzle stalls. The market offers plenty of places for a cup of cider and when hungry there is plenty to eat from Mexican food to Turkish food. New York attractions worth visiting while in the city include the Empire State Building, Central Park, Statue of Liberty and of course Times Square.
Dublin Docklands Christmas Market
The Irish love to throw a big party and for 12 days in December, Dublin gives a cultural mix of German and Irish trade displays. Soon as you enter the festival, the smell of roasted nuts hits your nostrils. Relax around the market with some eggnog or mulled wine and munch on a sizzling German bratwurst. The biggest feature of the market arrives with the range of free entertainment. Expect to hear carol singers, a sprinkling of local bands and Christmas story tellers. For the kids, Santa Claus meets them every Saturday and Sunday. They can enjoy riding the traditional Victorian fair rides and the parents can enjoy a 1950's bar complete with dazzling performance acts.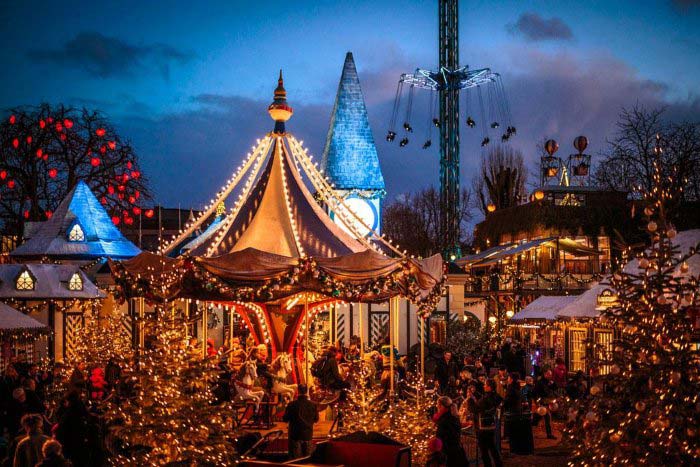 Tivoli Gardens Christmas Market in Denmark
The quite famous Tivoli Gardens Amusement Park plays host to Copenhagen's festive markets. Find an extensive four miles of different stalls alongside decorative willow trees. The markets are open from November 16th until December 23rd, and again from December 24th to the 30th. A million visitors stroll among the residents of Nissekøbing to experience the wonderful Chinese lanterns, carousel rides and the Elves train. The arts and crafts will wow the unique gift seeker in you. While visiting the market, check out the Nutcracker play at the Tivoli Concert Hall for some Hans Christian Andersen theatre magic. The fireworks festival lights up the skies around Tivoli Gardens up until New Years Day.
Munich Christkindlmarkt
Germany's biggest sparkle in the festive season starts with the Munich market. In the heart of Munich, a Christmas tree adorns over 2000 lights reaching 30 metres of height. As with all European markets, a selection of stalls for handicrafts, sweets and hot and cold drinks are available. Walk around the market situated in Marienplatz from stall to stall and view the largest selection of craft gifts for a Christmas market. The most popular gifts are the handcrafted Christmas angels. The market is open from November 25th until December 24th. This is a popular choice for a Christmas market experience. Also, Munich's cold season tends to promise a white Christmas.


Stockholm's Stortorgets Julmarknad in Sweden
One of the oldest Christmas markets in the world sits in the majestic city of Stockholm. With origins since 1523, more than 40 stalls offer a plethora of Swedish delights from foodstuffs to handicrafts, and scrumptious snacks such as gingerbread. The Christmas market opens on November 19th and until December 23rd. Try out some real Swedish culture by eating some elk meat, reindeer, or smoked sausages. Feast your eyes on the delicious Swedish Christmas sweets. Other attractions worth a visit in Stockholm include Stockholm Palace, ABBA: The Museum, and the Vasa (a stunning old fashioned warship that looks like a pirate ship!).
If you are travelling to any of these Christmas markets grab a free travel SIM card to reduce your roaming charges by up to 95%.