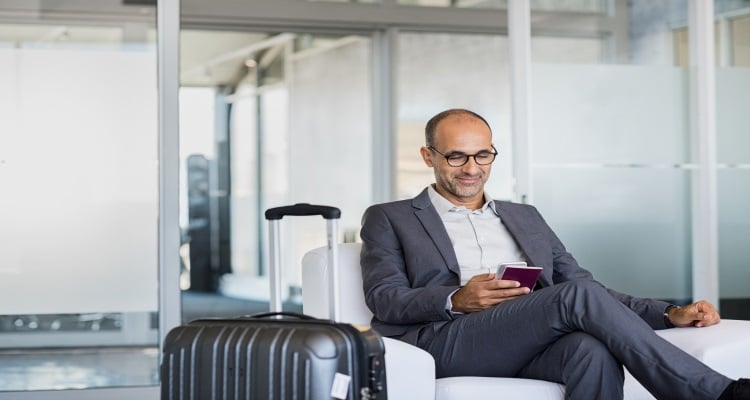 Business travel is part and parcel of a job for some of us and frequently jumping on planes to be jetted off to countries faraway can be exciting but it can also be nerve-racking.  Making sure you are planned and coordinated means you can remove any stress and maybe even fit in some time for sightseeing.  Here are some business top travel essentials that will make your life smoother and your travels worry-free!
The ability to charge devices on the move
We generally use our phones more when we travel; checking maps, calendars and emails while on the move can leave you with a used up battery.  A pocket sized power bank can give your phone or tablet enough battery power so you don't end up in a situation where you are stuck with a dead phone, in the middle of know where, just before your important meeting.  Power banks come in all shapes and sizes, from portable speakers with built in powerbank to heavy duty powerbanks that can charge your devices multiple times!
A roaming solution
All business travellers are attentive of excessive roaming charges, but the need to stay connected when you travel is often greater. Fortunately there are roaming solutions ready to be used; you can get an international SIM card for free incoming calls and cheap calls, SMS and data, you may be able to get a good deal with your existing provider or you can attach a Virtual Number to your international SIM card and avoid roaming charges all together.  Make sure you are aware of the rates before you travel and that you have cut down on data roaming usage by following these data saving tips.
Portable WiFi
Unless you want to pay for Wi-Fi in airports or anyplace else you can't get free WiFi (or WiFi at decent speeds) take portable WiFi with you.  It means you can get online while travelling on trains and when you are out and about.  With an unlocked portable WiFi device you can use any international SIM card inside so you can make sure you always get the minimum rates. These palm sized gadgets can mean that you're connected quickly despite where you are situated.
Headset
This is specifically beneficial if your hotel, or areas you are visiting have free WiFi, you can organise Skype meetings for business back home, whether you need to conduct or just connect with your loved ones. Having a headset will keep communication private if you're in a public area and will mean the sound quality is fit enough for you to hear.

A multi charger
There is no point having technology which isn't fully charged; this can include phones, tablets and laptops along with electric razors and hairdryers. There are only a certain number of plug sockets in any given hotel room and odds are you won't have enough adaptor plugs for them all so a multi charger means you can charge all of your gadgets and items at once.  Make sure you take a universal travel adapter with USB ports so you can use regardless of what country you travel to or from.
Tracking for your luggage
Losing your laptop bag or other travel accessories is a major problem, particularly if you're travelling with a work laptop. A small Treasure Tag which can be bought online attaches to your item and then syncs to your smartphone. You can then track where your item is if it gets lost or taken, and it only takes a regular watch battery which can last around six months.
Passbook App for your iPhone
On a business trip not only will you want to keep track of things like your boarding passes and hotel accommodation, but you'll want to keep track of any receipts which may need reimbursing to you. The Passbook app for iPhone will gather all your paper documents in one place so you have a comprehensive paper trail of all you need to do on your trip.
Suit bag
When you're heading away on business chances are you're going to be taking a suit away with you for those crucial meetings and client/ business dinners so a suit bag should be a high priority. Instead of folding or rolling your suit into your luggage place it in a separate suit bag and take it with your hand baggage to ensure it stays crease free. This is ideal if you are not going to have time to hang it up and iron it when you land. WorldSIM also offer other great travel accessories to accompany you on your trip such as powerbanks, Wifi extender, international sim card and a selfie stick.
See more at: https://www.worldsim.com/travel-essentials
international sim card- travel gadgets-data-roaming-travel-accessories-portable hotspots-travel-tech-travel essentials