City breaks mean you can have it all! Ideal for those that love the excitement and want a trip that includes a bit of everything. Here are our top 5, in no particular order:
Krakow, Poland
This pretty city has plenty to explore; the majestic Great Barbican fortress is very impressive and definitely worth a visit. We also love the eerie Wieliczka Salt Mine which has been carved by hand from salt blocks; this creative attraction has a whole world full of chambers to explore. Get out of the city with the Tatra Mountains and Ojcow National Park nearby.
Reykjavik, Iceland
The only place you can go inside a volcano, Reykjavik offers a wealth of outdoor activities from dolphin and whale watching to exploring lava tubes. With great art galleries, incredible waterfalls (above) and a black sand beach where the sea is heated to 40 degrees – everything about this place is unique. [Read more about Iceland].
Barcelona, Spain
This multicultural city is rich with beautiful architecture; explore the marina, bask on the beach then dance the night away when the sun goes down. Known for its live music, impressive art, and delightful gastronomy, Barcelona makes a vibrant city break.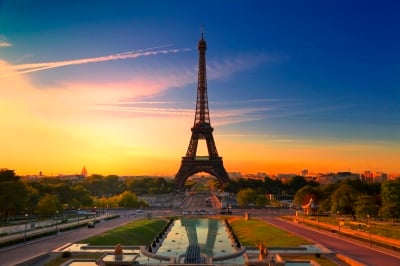 Paris, France
From the Louvre to the Montmartre you can immerse yourself in history and then soak up the sights on a relaxing lunch cruise on the river Seine. Check out the latest fashion, have dinner in the Eifel Tower then catch a cabaret show. There are plenty of day trip options including Disney Land Paris and the medieval walled town of Provins – complete with re-enactments and jousting.
London, UK
If you're feeling brave you could climb the O2, for a safer option you can also get great views on the Millennium Wheel. Watch street performances in Covent Garden or explore the uniqueness of Camden Market. Get out of London and head to the beach or to Stonehenge.


Save 50% on your mobile bill with your WorldSIM travel SIM card if you are traveling to Europe. See how our rates compare with this handy infographic.