Reduce the cost of data roaming when you travel by as much as 85%!  Post photos to Facebook, check your email and use your travel apps without the expensive price tag by using your WorldSIM international SIM card. Data only takes a moment to set up - here's how....

1. All handsets are a bit different so the name of menus and settings will vary.  Find the settings on your phone and navigate to the networks / connections menu. 

2. Within the options should be 'Mobile Networks' you then need to find the option for 'Access point Names'.  It may also be referred to as 'APN'.  (See the image below).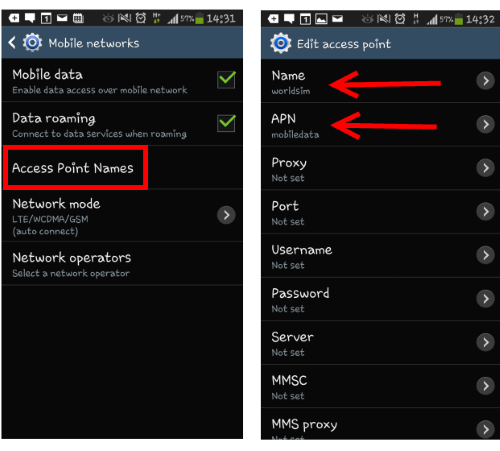 3. Create a new APN. Set the Name as 'worldsim' and the APN as 'mobiledata'.  Leave all the other fields blank.  Need help finding this is your phone menu?


Its as easy as that! Data rates on the WorldSIM International SIM card start from 12 cents /8p per MB and you can get low rates in 135 countries.  To check our full list of rates, see our tariffs.

Remember:
If you change your location profile you may need to reset your data connection by following these steps again. You will need credit to be able to use data, top up or check your balance.