All over the world, most Christmas celebrations are linked in with local culture and traditions. The celebrations can be surprisingly different from country to country, focusing on different aspects of the birth story, and this time of year would be when the entire world comes together to celebrate Christmas in different ways with their family and friends.
Here are some of the coolest and unique holiday traditions that will be taking place around the world:
Japan: KFC Christmas
About 2% of Japan's overall population are known to be Christians. This measures up to be approximately 3 million people. While it is correct that Christmas is not really celebrated in Japan, a December 25th custom's central focus is on KFC. Only 1% of the Japan of the population celebrate the holidays, while the rest of them head to KFC.
In Japan, advertising can be a fabulously powerful tool. The chicken fad began back in 1974 when KFC bosses created a Marketing campaign that revealed their first Christmas meal to be KFC for visiting foreigners, who wanted something that imitated a traditional Christmas dinner.
For many people in Japan it has been made an annual tradition to eat chicken meals as a traditional Christmas dinner at KFC on Christmas Eve than the typical turkey dinner. KFC is so popular during Christmas that you would have to make reservations 2 months in advance to eat at KFC on Christmas in the country. 40 years later, this quirky and unique tradition involving KFC continues in Japan to this day.
In addition, white Christmas cards are sent to friends and family. Red cards, however, are avoided, as this is traditionally the colour that represents funeral announcements.
Useful Tip: If you are planning on visiting these destinations and hoping to capture photos of your holiday, you might need to think about buying a data sim card before or on your trip. This may be a better way to reduce roaming charges. If you plan to buy a local data SIM card, you will have to use another number. Before you travel it is greatly advised to get your phone unlocked by a tech savvy or your mobile provider.
India: Banana and Mango trees
In India, Christmas is celebrated by only a small percent of around 2% of India's total population, who are practicing Christians. Christians go to church, exchange gifts and give sweets to children. However, when it comes to decorating the Christmas tree, real pine trees are hard to find in India. As a result people use banana and mango trees instead. They also use the leaves of these trees for decorations.
Belgium
As a Christmas tradition, December 5th is St. Nicholas Day in Belgium, and the day when children receive their gifts. Children put out their shiniest shoes & the biggest plate they can find for St. Nicholas to leave treats & presents for them.
Ukraine's Spider Web Tree
Christmas trees in the Ukraine are regularly covered in spider webs and used as decorations for their tree. An old legend tells of a poor family who grew a Christmas tree from a pinecone. The kids, were so excited by the idea of their very own tree, that they spent months day-dreaming up ways to decorate it for the holiday. But the family was penniless, so the children's tree would remain plain. Upon waking, the children discovered that spiders had spun webs of glossy silk around the tree's branches. Each thread unusually turned into silver and gold as the morning's sun danced upon the tree's bows.
Today, Instead of using tinsel and baubles to decorate their trees Ukrainians dress up their trees with artificial spiders and webs to welcome good luck into the coming year.
Denmark
During the Christmas period it is important to have a calendar candle and Advent candles in your house. The idea of the Christmas calendar candle is to count down to Christmas Eve by eventually burning through the December days. Each of the four Advent candles are lit on each of the four Sundays before in December.
Decorations as well are essential in this country. The ones that circles around the calendar candle mostly contains fir, moss, clay, elves, stars, hearts and ribbon, usually in the colours red, white, gold and silver. For many people, making time to put up the decorations, and the decorations themselves, plays a huge role in establishing Christmas cultural concept.
In Denmark tradition, it is believed that a naughty elf, called Nisse, plays pranks on families. Thus, to make sure he's nice and doesn't steal away all their presents while the children are asleep, they leave a bowl of rice pudding or porridge.
Germany
The western tradition of putting up Christmas stockings and filling them with gifts is very similar to the German tradition, where German children leave a shoe outside their house on December 5th, which is then filled with sweets overnight. Although, the naughty children wake up to find a tree branch or sticks and stones in their shoe instead of treats.
Germans also hide a pickle in the Christmas tree on Christmas Eve, and the first child to discover in the morning receives a small gift.
Four Sundays before Christmas, as tradition, they make an Advent wreath of fir or pine branches that has four colored candles. They light a candle on the wreath each Sunday, sing Christmas songs, and eat Christmas cookies. In the weeks creeping up to Christmas, homes are filled with the lovely smells of baking loaves of sweet bread, cakes filled with candied fruits, and spicy cookies called lebkuchen.
Venezuela
In the capital city of Venezuela, Caracas, people attend the early morning mass on Christmas and in the run up to Christmas. The unusual part is the fact that they have developed an unusual tradition of going to Mass on roller skates. This unconventional tradition is so popular that streets across the city are closed to cars until 8am. This is so that churchgoers' can enjoy roller-skating to the Early Morning Mass, making it a fun and speedy method to go to church.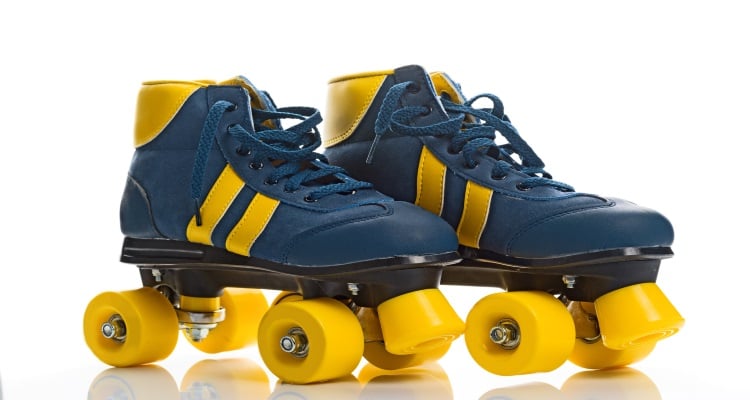 Italy
Italy has their own adaptation of magical beings that bring joy to children. Every January 5th, Italian children leave wine and food before they go to sleep for La Befana, and in turn a friendly lady old witch (Santa's competitor) covered in soot climbs enters homes through chimneys and leaves treats for children at night. In Italian folklore, an old witch delivers gifts and candy to children on Epiphany Eve (January 5th).
Christmas Traditions in Italy commences on the first Sunday of Advent, which is four Sundays before Christmas. Christmas fairs feature fireworks and bonfires along with holiday music. Families go to the Christmas markets to shop for gifts and new figures for the manger scene. Some families set up a Christmas tree and decorate it.
Iceland
In Iceland, kids leave their best shoe on their bedroom windowsills during the twelve days of Christmas. While they sleep each night, 13 magical Yule Lads dressed in Icelandic costumes climb down from the mountains to leave gifts in the shoes of well-behaved children, ready to be enjoyed in the morning. Naughty kids end up with a potato instead. They come to town two weeks before Christmas, and leave after the holiday.
Norway
On Christmas Eve here is no cleaning in Norway. In Norway all brooms are safety hidden away. According to Norwegian ancient belief witches and spirits would arrive on Christmas Eve to steal brooms. It is a tradition that dates back in centuries to when Superstitious people believed that witches and evil spirits came out on Christmas Eve looking for brooms to ride on in the skies and create havoc until dawn. Therefore on Christmas Eve all the brooms and similar cleaning implements are hidden. To this day, many people still hide their brooms in the safest places in the house to stop them from being taken.
Australia's (Beach Party)
In Australia where a White Christmas falls during hot and sunny summer, it is completely normal. Down Under, Aussies goes to the beach where they can party and indulge themselves in picnics, swimming and volleyball.
Instead of a snow themed white Christmas Aussies in the land down under, prefer their tradition to include Santa Claus costume wearing individuals riding the waves on surf boards, and open air barbecues are held with no additional risk of guests getting cold. The crisp white sand of Australian beaches really puts a different spin on the concept of a "white Christmas".
In Australia, Christmas Traditions on December 25 falls during summer vacation, so many of the country's Christmas festivities are held outdoors. The most favourite event of the Christmas season is called Carols by Candlelight. People come together at night to light candles and sing Christmas carols outside. The stars shining above add to the sights and sounds of this wonderful outdoor concert.
Useful Tip: If you are considering taking photos of your holiday "down under" to send to your family and friends, you may want to look at purchasing a data sim card for your holiday, such as a local or from any data SIM provider. This may be the ideal alternative to help reduce roaming charges, and it can be particularly worth it for those who regularly visit the same country.
Slovakia
In Slovakia at the start of Christmas Eve dinner, the leader of the family takes a spoon of Loksa pudding (a traditional Christmas dish made out of bread, poppy seed filling and water) and throws it up at the ceiling. The Slovakians believe that the more mixture that sticks on the ceiling the richer his crops will be the following year
Worldwide Data SIM Card
If you are planning to travel abroad to any of these countries and beyond, and you intend on using the internet, the best option is to buy a SIM card such as a data SIM card.
WorldSIM data SIM card is suitable to use with iPads, tablets and portable WiFi devices, it is simple to use and all you would need to do is add a data bundle to get even lower date rates. This data SIM card allows you to slash the cost of data roaming charges by up to 95% if you travel anyplace around the world. Other advantages of data SIM card includes prepaid internet at very low costs in 188 countries, its compatibility with all unlocked devices & all SIM sizes and prepaid credit that never expires.
We also offer fantastic travel gadgets such as powerbanks, Smartwatches, Noise cancelling earphones, action cameras and MiFi devices.
See more at: https://www.worldsim.com/data-sim-card
data SIM card-travel accessories-travel gadgets-data roaming- portable hotspots-travel tech-travel essentials-action camera