For many holidaymakers, a day at the beach doesn't require you to bring along much stuff. For example a stylish swimwear, a large beach towel and a decent sunscreen lotion, are crucial, by all means. Beaches are ideal for travelers to relax in general. But even the most humble, hassle-free beachgoer might realize that the right travel gadgets for the beach can seriously enhance the beach experience or a weekend by the shore in a positive way.
Read on for the top 5 compiled list of must have travel accessories that will give you a more hassle free and enjoyable experience at the coast.
Action Camera
Beaches are a great place for taking photographs. Whether you are having fun swimming, surfing, snorkeling, playing volleyball, building sand castles, or simply relaxing in beach chairs, all these types of activities and more give you a chance to capture good memorable fun photos. The drawbacks of taking photos on the beach would be obstacles such as blowing sand, high moisture levels, unexpected waves, and the possibility of accidentally dropping in pursuit of a great shot.
The ideal solution would be to go for a camera that is designed to resist all these challenges and more, like WorldSIM Insta360 Air Android action camera. This all purpose, high performance quality action camera model, combines ultra-high definition 3k resolution video and still images, with a 360 degree imagining. This type of image quality works well for making large prints of your favorite memories on your beach vacation. This compact and lightweight travel gadget makes carrying and taking it to the beach an easy breeze, and can easily be plugged into your mobile phone.
For more action cameras check out  https://www.worldsim.com/cameras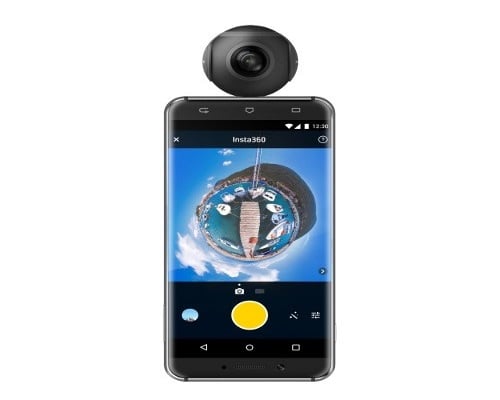 Bluetooth Speaker                                                                                        
If If you are bringing your phone to the beach loaded with music, you can pack a small Bluetooth speaker to stream your favorite songs while soaking up the sun, playing beach volleyball, building epic sand castles or enjoying a bonfire as the sun sets. Just be sure to be considerate of those around you by keeping the volume in check!
WorldSIM Bluetooth speaker with powerbank is a must have travel gadget that offers more than just good looks. It is a practical solution to play and enjoy your favorite tunes at the beach. This travel gadget is small and easy enough to carry to beach, and can even charge a mobile device. It includes a built in 4400mph powerbank to charge your device multiple times. You can also play music directly from your Micro SD card and answer incoming phone calls through its built in high quality microphone without the hassle of touching your phone.
Mobile Phone
Switching SIM cards when you travel can be a as nuisance.  Fortunately we have a variety of unlocked phones with dual SIM functionality and tablets that can be used as a phone so you can stay connected easily. You also receive a free international SIM card when you purchase any dual SIM phone or tablet. This means you will be able to receive calls for free in over 90 countries as well as being able to save up to 85% roaming charges.
WorldSIM Avenger 500 is a perfect waterproof travel companion for your beach vacation. Its unlocked feature works worldwide and enables you to use both your own personal Sim card and WorldSIM card at once. This international 4G phone works practically anywhere in the world, and has a high spec 13MP rear with flash. It also has an expandable memory up to 32GB via micro SD card. Its display screen with Gorilla Glass can withstand any challenges at the beach.
For more selections of Dual SIM phones see https://www.worldsim.com/dual-sim-phones
Selfie Stick
Another useful travel gadget worth carrying is a hand-held camera extender (known as the selfie stick). This gem allows you to capture video or photos of yourself from hard-to-reach angles. This in turn enables you to produce some rare angles and take better photos.
WorldSIM's own Bluetooth selfie stick brands stands out from the crowd with its lightweight, portable and durable model. Its 1.15m retractable selfie stick handle enables you to manage the buttons on your phone from the handle of the selfie stick so you can take photos easily and quickly, ensuring you capture the perfect moment every time. It also easily folds away so you can simply put it in a bag when not in use.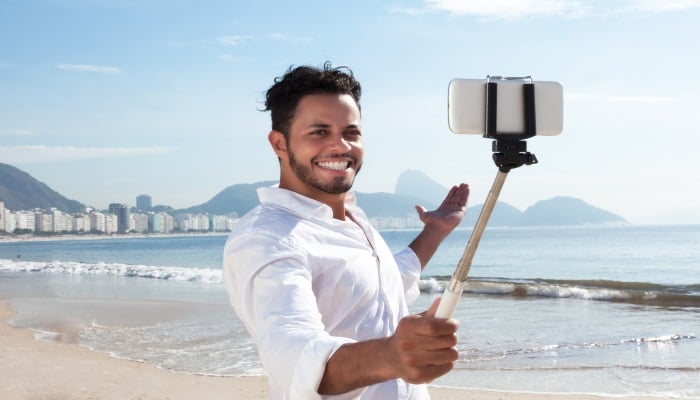 Pocket WiFi
Taking a pocket WiFi to the beach is a godsend because it enables you to take the internet with you wherever you go. All WorldSIM mobile hotspots such as the ZTE MF65 3G WiFi router are pocket sized, and ideal for anyone looking for internet on the go over your own private internet connection, anywhere around the world.
This MiFi device is unlocked which gives you the advantage of using any SIM card inside. This means that you can get the lowest data rates when you travel internationally with no contracts attached. You also get a free data Sim card and credit when you purchase this or any of the other portable hotspots.
For more info see: https://www.worldsim.com/portable-wifi
travel accessories-travel gadgets-travel SIM-pocket wifi-pocket router-travel products-Wifi router-travel tech-action camera-bluetooth speakers-fitness tracker-mobile wifi-data roaming-cool travel accessories-portable hotspots