London's famous Notting Hill Carnival will take place from Sunday 24th August to Monday 25th August and is expected to attract more than 1.5 million people this year.  With the Sunday as the children's day and the Monday as the adult's day, either day is well worth a visit no matter how old you are.  The carnival is a hive of activity including Masquerade bands, steel bands, Carnival dancers, parades, Calypso singers and a huge range of sound systems playing a range of music from house to ska.  It's a great day out – as long as you are prepared!  If you are planning on visiting the carnival please read these tips to make sure you have a great experience: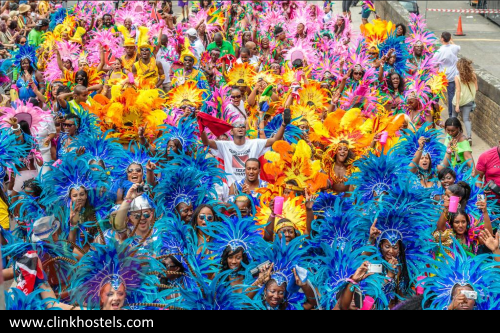 Be prepared
Make sure you are prepared when you leave home – do not get anything last minute as there are so many people heading to one place and there are ridiculous queues for everything.  Make sure you have enough cash on you as trying to find and ATM is a full day mission that you will regret embarking on.  Water is also essential, it's August so generally always hot. 
How to get there
Plan how to get there and how to get home.  There are so many people heading to one place so make sure you have an entry and exit strategy or may end up having a stressful time before you even arrive.  Lots of the tube stations and bus stops will be closed and when the carnival ends its likely that hundreds of thousands of people are heading in the same direction as you.
Plan your route
Get a carnival guide map as many of the roads are fenced off to manage the flow of people so even if you know the area you don't know what crowd control measures are in place.  If you have an idea of your route or where you want to go you can make sure you can get there easily without going against a barrage of people heading towards you.
What to wear
Check the weather so you know what to wear – will you need to put on suncream?  You might need a hat.  The weather is usually pretty good for carnival and you are likely to be in the sun all day so ensure you play it safe.  Wear comfortable shoes with covered toes - some parts of the carnival are overcrowded so your feet may get trodden on.


Going with your friends
It's best to go with a small group of 5 people or so as big groups are likely to get separated.  Keep an eye out for each other and through the crowded parts of the carnival in a single-file-train so you don't lose each other.
Stay safe
With over 1.5 million people there is bound to be an increase in crime.  Beware of pick pockets.  Keep your valuables on you – a travel pouch to wear under your clothes is a great idea.  If you are taking a bag make sure there isn't anything valuable in it.  It's best not to take a handbag – just take the essentials. 
Overcrowding
Some parts of the carnival can get really over crowded, this can reduce people to pushing and shoving to get through and not enough space for all the feet so a lot of toes being trodden on.  Sometimes it's better to wait it out rather than trying to get though (hence the reason you should have water on you!)

It's a great day out with brilliant music, fabulous costumes and amazing food, just follow this advice and you will have a brilliant time!