Even those of us who travel frequently, sometimes blunder and make careless mistakes, therefore complicating the travel and spoiling our perfect memorable time. With so much to organize there is a lot of opportunity for things to go wrong so to avoid dramas and have a truly unforgettable trip, simply follow these tips…
Planning Stage
Be smart saving your tickets budget. The right time to buy plane tickets is Tuesday, after 15-00. Traditionally, at this time big air companies provide serious discounts on their services to compete with the low-cost companies.
Plan ahead. Whether you are abroad on holiday or on business trip, for sure it is essential that you stay in contact without being caught out with unnecessary roaming fees. Keep your mind stress-free by making sure you can stay in contact while you are away, grab an international SIM card with global WiFi to make sure you can get online practically anywhere – even on flights!
Save yourself a headache keeping all needed documents in electronic secretary. There are a few apps like My eVault app and TripIt that keep an electronic copy of all necessary documents – passport, driving license, tickets, insurances, confirmation of booking as well. The Electronic secretary is available on iOS, Android, Windows Platforms.
On the Plane
Think of comfort. At the aircraft, choose a seat near the wing to eliminate the sensation of turbulence as those seats prone to shaking because of the plane design features.
Remember about necessity. The best time to use the restroom on board of the plane is immediately after leveling of the aircraft and 15-20 minutes before landing. That way you avoid queuing both on the plane and at arrivals.
Be productive. Grab a global WiFi pass and you can access the internet in-flight on thousands of flights meaning you can keep yourself entertained or be productive.
At the Airport
Play your cards right to manage your budget. After landing do not run immediately to currency exchange offices at the airport, always give preferences to ATM. Since the most of ATMs offer a more favorable rate than the exchange offices, you can additionally minimize fees by making larger withdrawals.
Stay informed about your flights. Airclaim app provides the very useful possibility for you to be alerted immediately when a flight is delayed or even canceled, when gates are opened or boarding is completed. Additionally, using Airclaim you always can claim compensation if your flight is delayed or canceled.
Enjoy your time in airport. LoungeBuddy app helps you navigate through more than 500 airports in the world. Take advantage of the plenty of information about the location of airports lounge areas, restaurants, restrooms and find out what kind of services are available for free.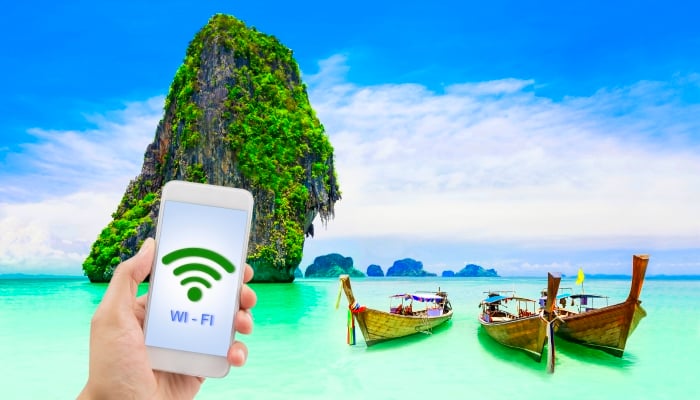 While Abroad
Stay connected cheaply. It doesn't matter what type of trip you are going on, for sure you need to stay online while you are out and about. A portable WiFi hotspot will enable you and the people you are travelling with to access a private WiFi network anywhere in the world, at the lowest possible costs.
Keep your valuables safe. For many of us the most expensive thing we travel with is our smartphone but if you are on a night out or exploring you might not necessarily want to whip out your expensive handset – but you want to stay connected. A smartwatch with SIM card can resolve this issue as you can use it as a phone even though you don't have your phone with you. You can also take photos and browse the web with some smartwatches. Read how to pick a good smartwatch.
Buy souvenirs in good time. Try to purchase gifts on the first day of holidays to rely on the remained amount of money and plan your itinerary accordingly. The feeling that everything is sorted means you can feel free to totally relax and unwind!

Want to win loads of travel gadgets and accessories? Enter our competition!