If you're travelling for business then it stands to reason that you are going to want to make your life as easy as possible. Business travel is hard enough with the stress, low productivity and trying to stay healthy. Thankfully there lots of things you can do to make life on the road easier….
Life changing apps
There are a number of apps that can totally change the way you travel. Apps like Jet Lag Rooster for jet lag, maps.me for sat nav that doesn't need a data connection, apps that can give you secure global WiFi access and apps like Expensify so you can do your expenses as you spend and have them submitted the moment you get home. If you have various rewards cards then AwardWallet can help you manage the pints for your accounts. Check out these other must have travel apps.
Keep a bag packed
Always travel with the same standard cabin approved bag and keep all your necessities in their even when you're not travelling: universal travel adapter, portable WiFi device, 100ml toiletries in a zip lock bag, international SIM card, etc. This makes packing super simple and ensures that you never forget essentials. Try to keep a list of items that you usually pack for a business trip so that you can refer to this every time you travel.
Portable Wi-Fi
Get low-cost internet access anywhere in the world, from your pocket. Portable WiFi routers are lifesaver when you can't get online; whether that's as your regular network doesn't provide coverage, data is too expensive or there is no free secure WiFi. This pocket-size gadget gives you a secure connection on at least 10 devices. If this is something you are considering you can read this post on how to pick the best portable WiFi router for your needs.
Stay charged
Running out of battery will leave you unproductive, uncontactable and possibly stranded. We generally use our devices more when we travel; while waiting around and using sat nav constantly for example so a high capacity powerbank will ensure you can charge your phone, tablet and other devices many times without the need of a wall socket.
Get a Virtual number
If you travel to the same countries regularly you can use a virtual numbers service so you can be contacted on phone numbers from over 50 countries, all on one SIM card. This means your customers in Germany, USA, Canada, and South Africa, for example, can each call you on a local number to them and come through to you on the same SIM card so you don't need to carry lots of different phones.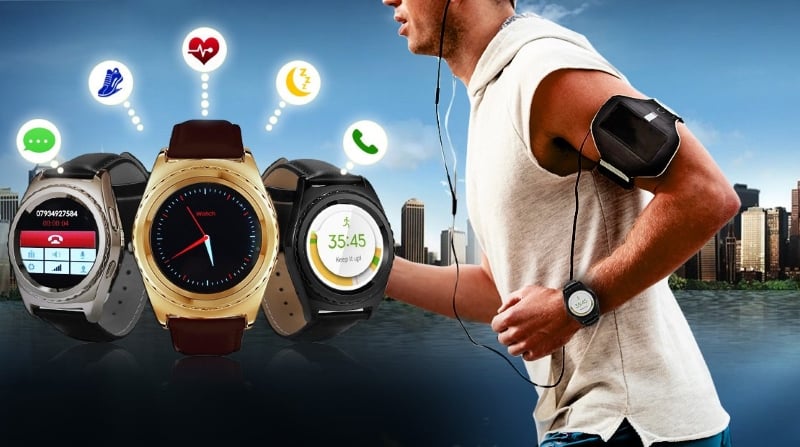 Stay healthy
Trying to stick to any kind of routine goes out the window when you travel as you don't know what will be available to eat. However, you can remain healthy by exercising. A smartwatch with fitness tracker will help monitor your steps – you can use an app called maps.me to walk between meetings. Its sedentary reminder will ensure you move around frequently and you can also use other functions like the heart rate monitor to keep your stress levels low.
Keep the same providers
Whether it's Airlines, travel insurance, roaming providers or taxis, if you always have the same provider you can store their customer service number in your phone so if you have any issues on the road you don't have to waste time or stress out trying to find the best number to call. You can then possibly benefit from rewards points as well.
Take time out
All work and no play can make it hard work to be away from home. Even though business trips can be busy and stressful trying to take time out to spend a little time on your own - even if this is just an hour for lunch, taking a walk in the park, listening to music or watching a movie. Stress makes you unproductive and miserable so prevent it by regularly taking breaks.
Be organized
Make sure that you are as organised as possible so you have less that you need to think about. Find out what works and make it a habit so you do it automatically. Store you itineraries digitally, charge your devices the night before, know what clothes you will take, plot your hotel and meetings etc on the maps.me app so you always know how to get from place to place. If you are super organised you should be able to squeeze a little sightseeing in too!
If you travel frequently, these business travel accessories save you money and make your life easier!