With summer holidays coming up its time to get organised for your beach holiday so you can make sure you can get plenty of relaxation and eliminate any stress….  Leave your phone at the hotel and still be able to browse the web, capture your special underwater moments and post all your amazing holiday photos to Facebook without worrying about roaming charges or slow WiFi!  These are our favourite summer holiday travel essentials…
Capture the action
Capture your best moments whether it's as photos or videos, on land or underwater, while being still or while zip lining through the jungle.  This cool action camera comes with loads of accessories so you can capture still photos and videos wherever you are, it's also WiFi enabled so you can save them to your phone or tablet to easily post to Facebook so you keep all your friends at home updated.
Private 3D Movies - anywhere
After a recent survey we found that waiting around was the second biggest annoyance of travelling.  This is possibly the coolest travel accessorie to keep yourself (or the kids) fully entertained with a 3D movie experience that straps on to your face!  Simply insert your smartphone into the 3D Virtual Reality Glasses and you can watch your own private 3D movies.  Time goes by much quicker with these on.
Leave your phone at the hotel and still browse the internet
Yes you read that right. This classy smartwatch has a SIM card slot so you can use it as a phone, meaning you can browse the web, make calls and send SMS while your regular phone is at the hotel.  Handy for when you are out for the evening and don't want to carry valuables on you.  What's more you can use it to check your UV Radiation, monitor your sleep and track your fitness.  This smartwatch phone also has a 32GB expandable memory so you can a huge amount of music on it. The perfect travel companion.
Turn your iPhone into a dual SIM phone
Use this cool gadget to turns your iPhone into a dual SIM phone.  This means that you can use an international SIM card / local SIM card as well as your regular SIM card to save on roaming charges when you travel – without having to keep switching SIM cards.  Never miss a call or text on your regular number but also have the benefit of avoiding pesky roaming charges.  Nice.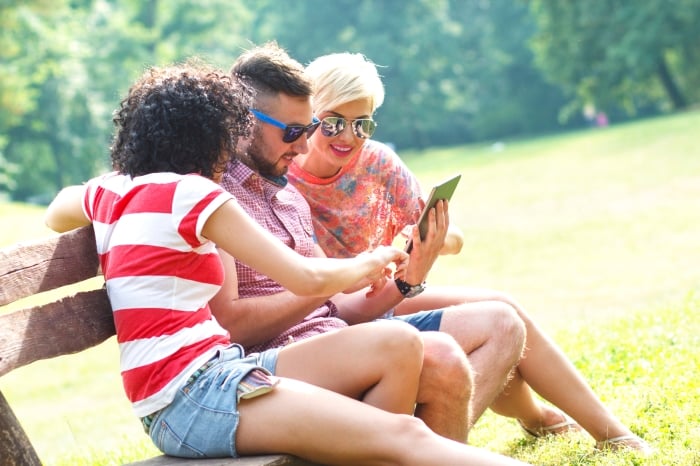 Get internet on the go
It's the places without free internet where you often need it most: on trains, in airports, when you are out and about, however, data roaming can be pretty expensive.  Grab a portable WiFi router so you can get internet on the go worldwide, for much less.  Simply insert a SIM card inside (you can use a local SIM or worldwide data SIM, which ever gives you the best rates) and you can browse the web from your pocket.  It's best to use a pay as you go SIM to ensure you stay in control of your costs.  You can also follow these sneaky data roaming tips to reduce the amount of data you use.

Data SIM bundles
Get up to 1GB of data when you travel with data bundles for all the most popular destinations and a global bundle for those that like multi destination trips.  Check Facebook, respond to emails and google to your hearts content without having to worry about excessive data roaming charges.  You can use this data SIM in a portable WiFi router, tablet or iPad.
Bluetooth speaker
Listen to your favourite tunes while you soak up the sun on the beach or while you get ready to go out for the evening, this Bluetooth travel speaker also has a built in powerbank so you can charge your devices.  Its 4400mah battery will charge the average device about 2.5 times.
Powerbank
For more power hungry devices you can get this powerbank with a battery capacity up to a massive 12000mah - that's enough to charge the average phone fully 6 times!  It's just about pocket size and you can even charge two devices at the same time so you don't have to worry about running out of battery just as you go to take the epic photo.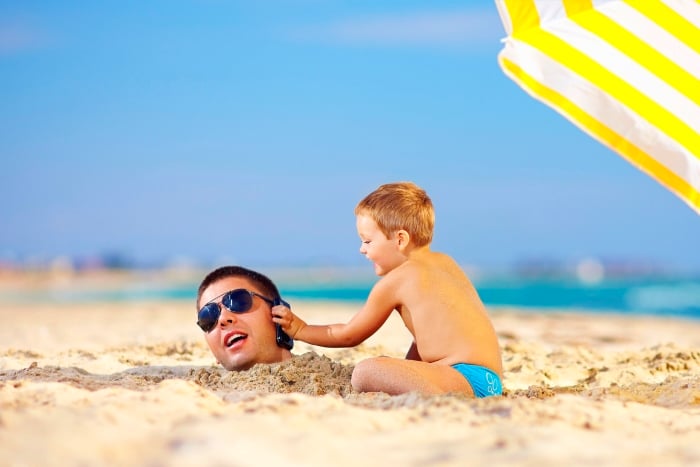 International SIM card
In our recent survey 83% of beach holiday goers will use their phone when they travel. An international SIM card means you can answer your phone while travelling without roaming charges (in 95 of the most popular destinations), it also enables you to save up to 95% on data roaming, calls and SMS messages worldwide.  With more coverage than the average SIM you can stay connected wherever you are.  See an example of savings for UK users.

Micro SD card
It's always good to check how much space you have on your /tablet/camera before you travel as some holiday destinations can result in you taking hundreds of photos!  Having a backup SD card can ensure you don't miss any photo opportunities.  In addition, if you are taking the Bluetooth speaker or smartwatch above you can load all your music on a micro SD card and insert directly into either of these gadgets to listen to your music.
Selfie stick
Let's face it, selfie stick photos make you look much better because of the angle you can take photos at, it also means that everyone can be in the photo without passing your phone to a stranger.  Make sure you get a Bluetooth selfie stick so you can activate your camera from the handle instead of having to mess around with the timer settings.  If you want to look even better in photos there is an app called Camera360 and it makes you look amazing as you can choose filters that suit your complexion and automatically blur out bits that you don't like.
Tablet
Watch movies, take photos and keep yourself entertained while waiting round.  A 7" tablet is big enough to watch movies and play games but also small enough to carry around with you.  If you are a gamer you can install Super Nintendo simulators and play all the old school games.  Make sure you download movies, apps and music before you leave so you have plenty of entertainment if you should need it.  These travel apps are some of our favourites.
Virtual numbers
Want to receive calls on your regular number while you travel but don't want to expensive roaming charges?  You can add a local virtual number to your SIM, forward your regular phone number to your local virtual number (it's a local call so is probably included in your minutes but do check with your operator first) and then you can receive calls on from your regular number, on your WorldSIM card wherever you travel.