Top tourist things to do in Singapore
Singapore has been described may be one of the most wealthiest and world class cities in the world. But it offers more than just high-end shopping malls, luxury hotels, and fine dining but it's also home to diverse range of budget shops, amazing street food, and dozens of free parks. After all it is a city filled with impressive things to see and do.
Singapore has an excellent public transportation system that makes getting around convenient and easy. Once you've gotten a sense of the metro map, you'll have no problem zipping from one part of town to the next. English is spoken everywhere and signs are in English as well. In fact, Singapore is one of the easiest and most comfortable countries to navigate in Southeast Asia. This country also gives travellers a great entry into Asia.
Here's a list of the best things to do in Singapore:


Gardens by the Bay
Singapore officially realised its "city in a garden" vision in June 2012 when it opened the gates to Gardens by the Bay, a 101hectare horticultural project that sits on prime waterfront land south of Marina Bay Sands. Similar to London's Hyde Park, Gardens by the Bay has three cutting edge gardens including the 54-hectare Bay South, the 32-hectare Bay East and the yet-to-open Bay Central.
Tourists would be astonished by the 165ft structures, vertical gardens, ferns and tropical flowering climbers. Other highlights include the pay-to-enter temperature controlled conservatories the Flower Dome. It is the world's largest column-free greenhouse and features vegetation from the Mediterranean and semi-arid tropical regions, while the Cloud Forest boasts a 115ft man made Cloud Mountain with an indoor waterfall clad in lush foliage.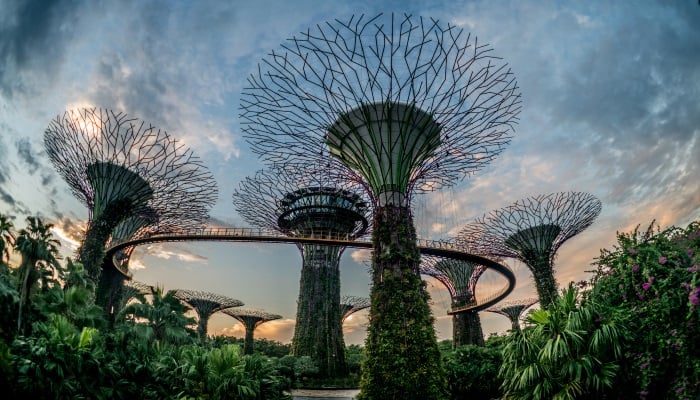 Little India (also known as Chinatown)
One of the most intriguing aspects of Singapore is the diversity of its neighborhoods. Thanks to its rich traditions, delicious foods and colourful history of migration, Singapore has a mixed community of Chinese, Malay and Indian cultures and neighbourhood. A trip to the city is not complete without visiting one of these ethnic areas such as Chinatown and Little India.
You can take a visit to the Chinese Heritage Centre and see the impressive and beautiful Sri Mariamman Hindu temple. Another temple worth seeing is the Buddha Tooth Relic temple. Heritage markers have been installed throughout the area in English, Japanese, and simplified Chinese so visitors can better understand the significance of the area.
Serangoon Road is the main commercial avenue that cuts through Little India. The best place to start this tour would be Tekka Market, which is agreeably Singapore's liveliest wet market. A stop at Arts Village to peruse the selection of Indian clothes and artwork before you hit Little India's busiest and oldest temple Sri Veeramakaliamman is optional but recommended! Then, you can head off to an afternoon of bargain-hunting at Mustafa, a 75,000sq ft haven of treasures.
Chinatown is best explored with a cultural hit at Chinatown Heritage Centre, which traces the days of Singapore's early Chinese migrants and their struggles to make ends meet. After that you can stroll along New Bridge Road and browse the street-side stalls that boasts hawk local-style barbecued meats, traditional Chinese sausages and souvenir shops.
Chinatown is also home to Singapore's oldest Hindu temple, Sri Mariamman, as well as Jamae Mosque, believed to be one of the oldest mosques in Singapore.
Asian Civilisations Museum
Set in the neoclassical Empress Place Building by the historic Singapore River, the Asian Civilisations Museum is an established museum that explores traditional aspects of pan-Asian culture, religion and people through exhibits of more than 1,000 artefacts including porcelain figures, bronze sculptures, woodwork, prints, textiles and ornaments. These artefacts are housed in 11 thematic galleries. The museum also has exhibits such as the Singapore River Gallery, which shows the archaeological harvests from excavation works on the banks of the Singapore River.
River Safari
River safari shares the grounds of the Singapore Zoological Gardens and the Night Safari, and is Asia's first and only river-themed wildlife park. It also showcases 5,000 aquatic and terrestrial animals via 8 river habitats. One fabulous feature is the lush Giant Panda Forest, Southeast Asia's largest panda exhibit, that houses giant pandas. You will also find the world's largest freshwater aquarium exhibit at the Amazon Flooded Forest.
Marina Bay Sands
The luxiorious and sophisticated Marina Bay Sands is an integrated resort complex, which boasts a hotel, high-end luxury brands, a mall with a canal running through it, the ArtScience Museum, and the Marina Bay Sands Skypark offers amazing panamoric views of the city. The Skypark's viewing deck and infinity pool are found in the ship that tops the hotel. Only hotel guests are allowed to use the infinity pool but anyone can visit the observation deck. From the skypark, you can see the innovative double helix bridge, the port, the Gardens by the Bay, and the impressive skyline.
The Marina Bay Sands embodies Singapore's taste, and help designate a major international city in Southeast Asia. You can get a taste of Las Vegas while in Singapore at the gargantuan Marina Bay Sands. This five-star resort has everything you need including a a huge casino, quality shows, and a shopping mall so big that it has got a canal with gondola rides. It also has an infinity pool 57 stories above the ground in a boat-like structure that sits atop three curved skyscrapers.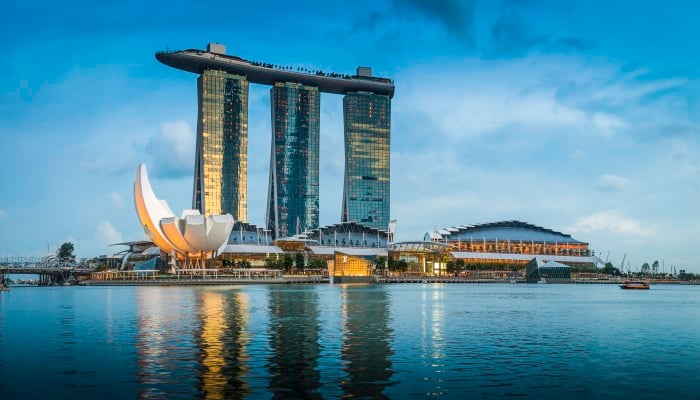 Universal Studios Singapore
Universal Studios Singapore was the latest addition to Singapore's attractions list. Opened in 2010, Universal Studios Singapore has seven themed sections with countless rides and shows, all related to major hit movies. The park is part of the US$4.5 billion Resorts World Sentosa Development. You can start off in Hollywood (Singapore), where strolling down Hollywood Boulevard will make you think that you're in the States, not in a tropical Asian country.
This is the main shopping area of the park. New York is based on the city of New York and here you can have your photo snapped with people dressed as 'movie stars' such as Charlie Chaplin and Marilyn Monroe. If you continue on to Sci-Fi city you will come across a pair of the world's tallest intertwining roller coasters among other things and then to Ancient Egypt where you will be faced with two massive guard statues.
Singapore Zoo
Labelling itself as the world's best rainforest zoo, the Singapore Zoo is a pretty remarkable place. The facility is clean and the animals seem to be well treated with plenty of plants and habitat space. The orangutans are extraordinary and visitors can watch as babies and adults apes' alike swing high above their floor surfaces and snack on bananas.
There is also a large chimpanzee family including zebras, meerkats, a komodo dragon, mole rats, white tigers, kangaroos, and many other creatures. If the zoo doesn't satisfy your craving for getting close to wildlife, there's also the Night Safari, a River Safari, a giant panda forest, and the Jurong Bird Park.
Singapore Flyer
The Singapore Flyer is the one of the world's largest giant Ferris observation wheel measuring. Since opening in 2008, the attraction which measures up to a staggering 443 feet tall and lasts for half an hour, has been offering breath taking and 360 degree views of Malaysia and Indonesia followed by Panoramic views and a great look at the city's Marina Bay.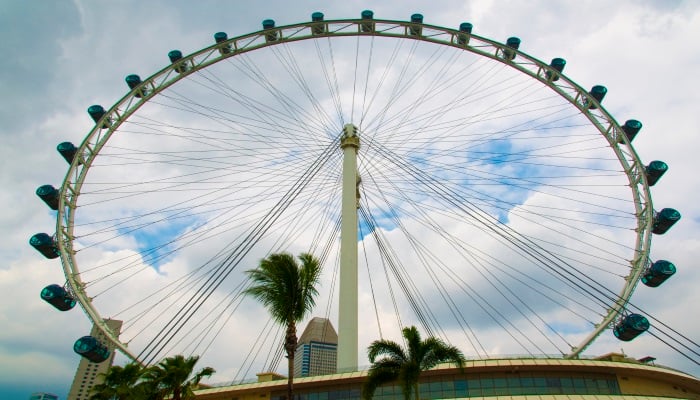 Sentosa Island
Singapore is not really known as a beach destination, but if you're really craving some fun in the sun, Sentosa Island is the place to find it. Siloso Beach is a good place for fitting in some beach time, and visitors can play volleyball on free courts or go kayaking and skim-boarding. There are many other beach attractions as well, including an Underwater World aquarium where you can swim with dolphins.
A worthwhile sigh to see on Sentosa Island is the Merlion, Singapore's famous statue that has the head of a lion and the body of a fish. Fort Siloso, the country's only secured fort, is also located on Sentosa Island. The Adventure seekers will want to look for The Flying Trapeze and the Sea-Breeze Water Sports at Wave House, where you can try your hand at flying strapped to a water-propelled jet pack.
Pocket WiFi
Taking a pocket WiFi while travelling is a godsend because it enables you to take the internet with you wherever you go.
WorldSIM mobile hotspots such as the Huawei E5787 4G+ Touchscreen Mobile Hotspot & Powerbank router are pocket sized, and ideal for anyone looking for internet on the go over your own private internet connection, anywhere around the world. This MiFi device is unlocked which gives you the advantage of using any SIM card inside. This means that you can get the lowest data rates when you travel internationally with no contracts attached.
You also get a free data Sim card and credit when you purchase this or any of the other portable hotspots. It's 4G function allows up to300mbps download speed and 50mbps upload speed. It also has a built in 3000mAh capacity powerbank which conveniently charge your travel gadget devices on the go. It enables you to write, send and receiving SMS messages and you can connect via USB cable to a computer or use as mobile WiFi. It has a 2.4-inch colour touchscreen and allows you to set up your own private WiFi network for up to 10 devices.
Global SIM Cards
Worldsim's Global SIM cards allows you to use data wherever you are coming from, and lets you stay for less in up to 200 countries. It also reduces your international roaming charges by up to 95%. Using a WorldSIM global SIM card when you travel internationally will give you low cost rates around the world. All of our global SIM cards are compatible in any unlocked device and fit any SIM slot. All our SIM cards are free, and you only pay for any credit you want to add. The credit has no expiration as long as you use your WorldSIM once a year so can use every time you travel.
Selfie Stick
Another useful travel gadget worth carrying to Singapore is the selfie stick. This priceless travel gadget allows you to capture video or photos of yourself from hard-to-reach angles. This in turn enables you to produce some rare angles and take better photos.
WorldSIM's own Bluetooth selfie stick brand is the perfect travel companion to Singapore, with practical features such as being lightweight, portable and durable model. It's retractable selfie stick handle lets you to manage the buttons on your phone from the handle of the selfie stick so you can take photos easily,quickly and capture those memories you will treasure. It also easily folds away so you can simply put it in a bag when not in use.
See more at: https://www.worldsim.com/international-sim-cards
travel gadgets-travel SIM-pocket wifi-pocket router-travel tech-mobile wifi-data roaming-travel accessories-portable hotspots-wifi router