Kick ass travel accessories for tech lovers
The wonderful world of tech can super-charge your travel experience so you feel relaxed and not have to experience any pain points for the whole duration of your trip. What's even better is that all of these travel accessories for tech lovers are small, lightweight and many are multipurpose! Whether you are traveling for leisure on for business, if you love tech, you will love these travel accessories…

Faster than 4G internet access wherever you go


Get 4G+ internet speeds on as many as 10 devices when you travel with this touchscreen MiFi device. It works just like your internet box at home but instead of having a phone line attached, you just insert a SIM card. It works with any SIM card from any country so you can always get the cheapest data rates when you travel. You can also use it to send and receive SMS messages, and it's a powerbank to charge your phone and other devices!
As much memory as you can handle
Not enough memory on your phone – no problem, just insert a micro SD card with all your files, music or movies into this little 4-in-1 card reader and you can watch movies and access your files straight from your spare SD card. You can also use it to back up your contacts, files and transfer files between your phone and your laptop.
Wear your camera
Don't you just hate it when you see something epic and go to take a photo but can't get to your phone or camera quick enough? Never miss that photo opportunity again with this wearable camera. Just attach it to your top/hat/belt/bag and snap anything you like with the click of a button. What's even better is that you can take still photos as well as video and it has a microphone and speaker built-in!
Turn your phone into a dual SIM phone
Do you carry two phones or switch SIM cards when you travel? Then you will love this dual SIM adapter that turns your Android or iPhone into a dual SIM phone. Access your contacts from both SIM cards and make calls and send SMS from the SIM card of your choice from the one handset.

Peaceful bliss wherever you are
What screaming children? Travel in your own peaceful world of bliss completely oblivious to the chaotic world around you with noise cancelling headphones. Whether you prefer the calming sounds of the ocean, an audiobook or pumping tunes, that is all you will hear, despite the external noises that everyone else will have to put up with. They are wireless too so no tangles.
More power than you can use
Never run out of battery on your phone, tablet or laptop again as this whopping 10,000mah powerbank can charge the average smartphone 10 times before it needs to be recharged. Perfect for travelling – and it fits in your hand.
Communicate easily
Typing on a phone whether it's a long text message or worse, email, is such a pain. Remove all frustration and grab yourself a foldable keyboard (it's about the size of a wallet). Simply switch on your devices Bluetooth, connect and you can start typing. It's compatible with all Bluetooth devices too!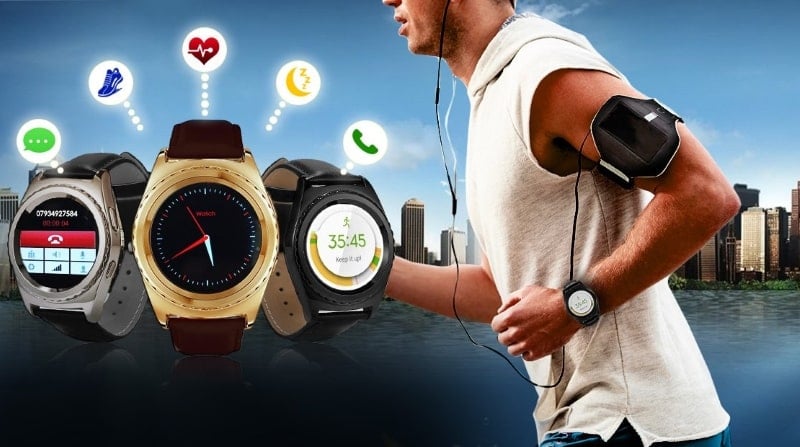 A watch, phone and fitness tracker all in one

It's a smartwatch, it's a fitness tracker and it's a phone! You can insert any SIM card inside and leave your real phone at home. Make calls, send SMS messages and you can insert up to 16GB external memory too. Grab your wireless earphones and listen to your music while getting fit with the built in fitness aps. Awesome.
If you need some ideas for your next trip, these are the best holiday destinations for 2017.