6 Travel Essentials That Change Everything
Its often the little things in life that make the biggest difference, for travellers, here are 6 little travel essentials that change everything…
A pen with a phone charger inside


Being stuck without a phone charger when you need one is a nuisance that nobody needs. If only there was a way to avoid this without having to carry a charger in your pocket wherever you go – imagine a pen with a charger inside, that also has a stylus for your tablet and phone. Now click here to make your imagination a reality.
4G WiFi in your Pocket
Hate being a slave to painfully slow free WiFi, only being able to get online in certain places? With your own portable WiFi hotspot you can get online anywhere in the world, anytime, super-fast. With an unlocked hotspot like this one you can use any SIM inside so you can get the lowest rates wherever you go. Connect up to 10 devices at the same time.


Multi country travel adapter with USB sockets
It's one of those things that are vital yet most of us always forget (tip: keep it in your suitcase so it's always there!) Rather than having to find out what type of plug the country you are visiting has, just take a multi travel adapter as no matter what country you are from or where you are travelling to its bound to fit (suitable for over 150 countries) – plus it has 2 USB slots so you don't need your phone or tablet plug.
Selfie stick with Bluetooth
Holiday memories don't last for ever but holiday photos do, so make sure you get the best shots so you can treasure them forever. A Bluetooth selfie stick means you can operate your phone from the handle of the selfie stick. Easy to use and no fuss.
Worldwide Data
It's always a smart idea to have a backup data solution when you travel, if you can't find free Wi-Fi when you need it, turning your data on could cost you dearly. A worldwide Data SIM means you can get online for less in over 165 countries. Use the SIM in tablets, WiFi hotspots or even with the use of a data roaming USB so you can get online from your laptop.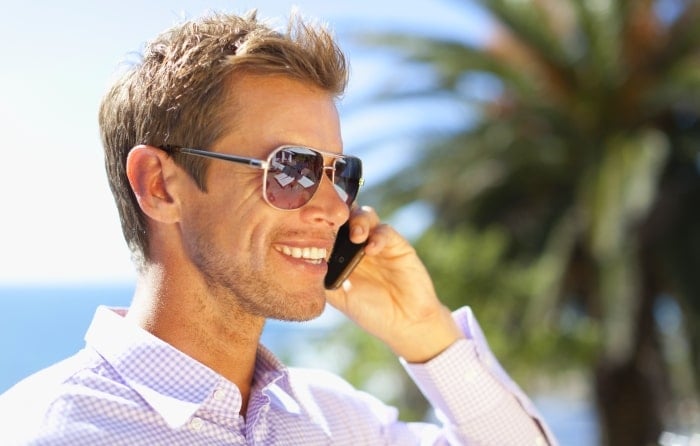 Travel SIM
Avoid excessive roaming fees when you answer your phone abroad. With free incoming calls in almost 100 countries a travel SIM can ensure you stay connected while you are away. You also get data, SMS and calls at up to 85% less than the average provider. Be contacted on your usual number without roaming charges by using a virtual number.
Travelling soon? Read these 18 travel secrets from smart travellers.