Travel Planning with Pinterest
Pinterest, for those that don't know, is a social sharing platform for photos. You can pin your own images, images from any website and images from other people's pinboards in order to create your own inspirational galleries. Whether you are planning a holiday, business trip, or an around the world adventure, you can use Pinterest to plan what to see and where to go – and while you're planning you will be constantly motivated and inspired by the images you find and pin to your travel boards.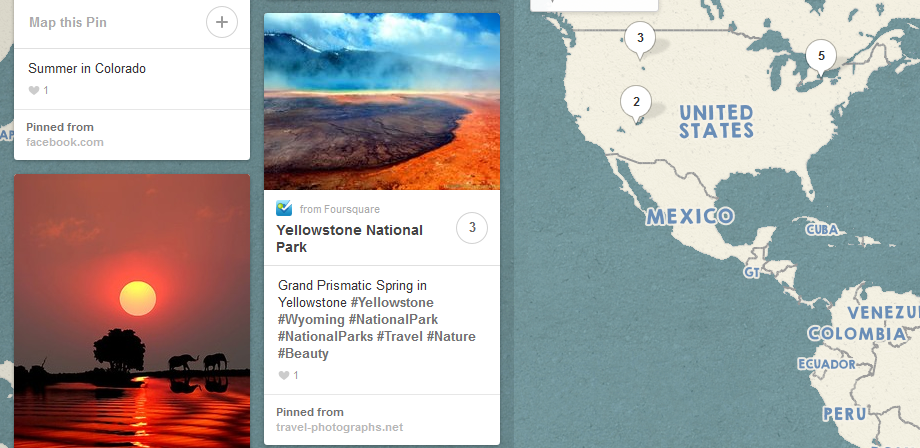 As an example, you may want one board of inspirational places, this may contain stunning sights and attractions from all over the world (take a look at our inspirational places board).



You also might want one board for each of the countries you are visiting, on this board you pin images of all the things you want to see on your trip; historic monuments, the best beaches, where to shop, restaurants to try, natural wonders – the list goes on. The images will link to the relevant web pages so you can read more about your chosen places whenever you need them. You can also add a map to your board and plot the places of all the sights and attractions on your pinboard.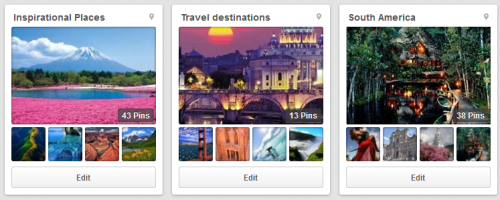 Here are some simple instructions
Register or login to Pinterest.com

Once your profile is completed add a new board and name it. If you have a holiday to Spain planned, call it 'Spain', or if you one day want to visit Brazil, call it Brazil (you get the picture!)

Give the board description and select if you want a map (a map is good!) Once you completed all of the options, click OK and start pinning!

Is there a website you know of with images of places you want to see? If so you can pin these images to your board. Click 'add new pin' and select either images from a website, your computer or search Pinterest for some inspiration. Make sure you add comments to your pins so you know what the place is and where it is. See one of our plotted boards on Pinterest.

Once done you can click the + on each image to plot them on the map. Just select the city the image shows and then search for the attraction.

It's a great tool for planning future holidays, short trips, trips you have to take at some point in your life. You can continually add to them and search Pinterest for new ideas – they are so many amazing destinations out there! Follow us on Pinterest so we can share pins and cool things to see!
Join us on Twitter for more tips!