Anybody that has participated in a long distance trek will know the life changing experience it offers. Trekking is about exploring the unexplored.  It is not just about walking with one foot in front of the other, it is also a good opportunity for you to be more involved with nature and encounter enchanting landscapes and epic adventures.
It challenges you physically, helps you to become fitter, and offers great opportunities for anyone that loves photography to take awesome pictures of the mountains.
If you want to tick a few of the best hiking locations off your to do list, here are some of the best treks around the globe:
Inca Trail to Machu Picchu, Peru
The Inca Trail in Peru is the most popular four day, 20 mile trek in South America and constantly appears on the list of top treks in the world.
This hike is ideal for fit people with a hunger for beauty and history. You will trek through beautiful jagged mountains, pretty cloud forests and a tropical jungle and pass by ancient Incan ruins scattering along the route. At the end of the trek, after catching breathtaking views along the way, you finally arrive at the world famous archaeological site Machu Picchu, the spectacular lost city of the Incas. 
Everest Base Camp Trek, Nepal
This fourteen day challenging trek is vastly popular amongst hikers and you get to be face-to-face with the base camp of the 29,000 ft Mount Everest, the highest mountain in the world.  This cold climate trek gives magnificent views of Mount Everest and an opportunity to explore the Himalayas as-well as experience the legendary teahouse cuisine of Nepal, which consists of hot lemon, orange, and ginger teas along with authentic Nepal food.
This trek is filled with camera taking moments as you hike through traditional Sherpa villages, pass by ancient monasteries and spot wildlife en route to this spectacular mountain.
Kilimanjaro, Tanzania, Africa
At 19,340 feet, this is Africa's highest mountain peak. With a varied range of climbing routes, most hikers would travel with a guided tour to reach the spectacular view above the clouds. As you climb up Kilimanjaro, you get to hike through snowfields, alpine deserts and a jungle and go across glaciers. The Machame and Marangu routes are amongst the most popular trekking route. In the past it has often been the highlight for many travelers such as mountaineers and famous explorer.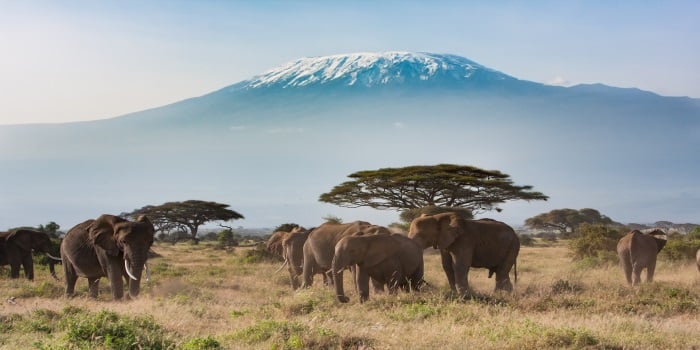 Snowman Trek, Bhutan
Known as one of the hardest trails on earth, many people have tried butfailed to finish the Snowman trek. This is mostly due to the changeable weather in the Himalaya.  This three week trek is popular but challenging for most hikers and not for the faint hearted. Therefore a guided tour needed and experienced hikers only can participate in this type of tour.

Bhutan is full of beautiful landscapes and has a rich, traditional heritage that few countries can compete with. Along the Tibet Bhutan border, you get to view the peaceful Buddhist monasteries at the sides of the cliffs and go through remote villages.  If you are capable of walking up and down steep mountainsides between six and eight hours a day, and adapt to the altitude, then you will love this unique journey. 
Overland Track, Tasmania, Australia
This trek is one of Australia's most famous treks, and is situated in the alpine landscapes of Tasmania's Cradle Mountain-Lake St Clair National Park within the island's Wilderness World Heritage Area. It features diverse natural terrain including waterfalls, mountains and cool mountain lakes. Trekkers begin at Cradle Mountain, where you get to pass through high mountain peaks, ancient forests, untouched temperate rainforest, alpine plains and wild rivers.
Most trekkers complete the hike from north to south over five or six days. There are basic huts to sleep in for the few nights you are there or you can carry camping gear with you.
Kalalau Trail in Kauai, Hawaii, USA
Located along the Na Pali Coast of Kauai Island, this coastal 2 day hiking trail offers a chance to trek through a jungle, to pass by waterfalls, and catch sight of beautiful views of the ocean. It is 22 miles long and takes around 2-5 days to hike all the way. It leads from Ke's beach to Kalalau beach along the Na Pah Coast on the island of Kauai in Hawaii. The best time to go is between May and September.
The Kalalau Trail is an 11 mile trail that leads from Ke'e Beach to Kalalau Beach along the Na Pali Coast and is part of the Hawaii State Parks system. This trek Offers glimpses of wild goats, waterfalls, tropical plants and bathing opportunities, Kalalau is the complete land-and-sea trail.
Torres del Paine, Pantagonia, Chile
This area is by far one of the most magnificent national parks in Patagonia. Chile's Torres del Paine is a every trekker's dream and transforms itself magically throughout different seasons.
There are two alternative pathway routes to this trail. The option "W" is a W shaped hiking trail, that covers a distance of around 50 miles (80km) through Torres del Paine national park. This trail is the most used hiking trail in Chile, and  includes fantastic views of the Gray Glacier. Nearby these points is the French Valley, a beautiful green corridor surrounded by steep granite walls. Walking through these hiking trails usually takes between four to five days, depending on the weather and how long you want to stay in each place.
The alternative option is "O" or Paine Massive Circuit. It is more challenging than the "W" option as it surrounds the entire mountainous massif and includes the "W". The "O" is 93km in length and only 5% of those who visit the park are able to complete it as the walk is not easy. For most hikers it will take between 8 and 10 days, and this trek requires you to have good physical condition and appropriate equipment.
GR20 in France
Hiking the 15 day GR20 trek in Corsica is one of the most demanding long-distance footpath in Corsica. It is considered one of Europe's most difficult treks. Its itinerary includes crossing Corsica's high mountain ridges and age Old Mountain pastures in around 200 km (311 miles).
This challenging trek can often be tedious and strenuous therefore you would need to be in good physical condition and looking for a challenge to tackle. The GR20 is best avoided in high summer. During the hike you get to view some spectacular scenery, breath-taking colours and free roaming wildlife. 
As you walk through towering pinnacles, deep forests and beech, windswept craters, glacial lakes and snow-capped peaks it is often possible to catch a glimpse of the dramatic coastline and the island's outline in the sea.
Travel Accessories
To make your travel adventures easier while hiking we recommend a good back pack, a good durable camping tent and good pair of hiking boots that can withstand any type of weather or hiking levels.
If you want to capture your memories WorldSIM offers a wide range of action cameras that will make your holiday photos pop. These action cameras will enable you to take photos and video like never before. From 360 degree video cameras to action cameras that can also be used underwater your travel shots will never be the same again.
For more information check out: https://www.worldsim.com/cameras
WorldSIM also offer fantastic travel gadgets to accompany you on your hiking such as powerbanks, smartwatches  and a selfie stick.
travel accessories travel tech-travel accessories-travel essentials-travel gadgets-action camera