WolrdMate is a travel app that enables you to add your travel itineraries, book hotels and car rental and look at flights. We tested the app out, here's the low down:
Getting started
Firstly, you are greeted with a register screen, no one is ever keen on these but sometimes it has to be done. We had to confirm our email address from our email inbox. There weren't many fields to fill in and you can choose to register via Facebook. Once confirmed you can view the app on your phone or logon to their website. You can select your chosen currency from their website.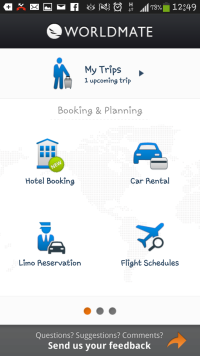 Adding your itineraries
To add itineraries like flights, hotels and other bookings you have made for your trip you just email them through to the designated email address. It takes 10 minutes from when you email itineraries through for them to show in the app. We uploaded an itinerary which included flights and a hotel but only the hotel registered. The flight was 'not with a supported provider' so we had to add this manually which was a bit of a pain. There isn't any way you can upload you travel insurance documents (we tried).
In the hotel confirmation that we uploaded, it shows the hotel confirmation details and contact details, you can also click on a button that shows you a map of the where hotel is located. You can tweet directly from the itinerary screen to Facebook and choose to share your trip via email if you want.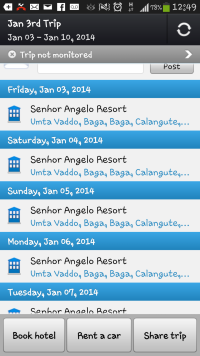 Booking a hire car
We tried booking a hire car in Borneo and there was no results on the day that we chose so if you are going a little off the beaten track, not sure how useful this feature would be. You can filter by price, car type and car rental company. When we searched for a car rental in Bangkok the results searched rates for three companies; Budget, Sixt and Thai Rent a Car, so local companies are included. To book you need to enter credit card details.
Booking a hotel
This app enables you to book a hotel, worldwide, on your choice of dates. You can then filter search results by price, ratings or location. The app tells you all you need to know about the accommodation, you can view photos and see where the hotel is located on a map before you book. Booking requires you to enter your credit card information within this app. The rates on hotels were pretty good.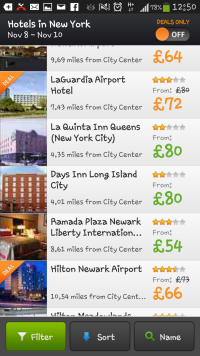 Flight times
You can search for flight times but prices are not given and you can't book. This would be handy if you were meeting someone from a flight or if you are travelling on business but otherwise this feature of the app has little use.

Added features
For $9.99 you can 'Go Gold' with the pro version. This enables you to automatically update flights if they change and add appointments to your calendar.

Rating: 5/10

Verdict: If all flights were supported and you could add your insurance details, tours and the app had a few extra features then it would be much more useful. This app has the potential to be good but it needs work.


Got an app you want us to review? Email [email protected] with the name of the app and write 'Review this app' as the subject of your email.