Worldwide Data SIM Card
---
This 4G worldwide internet SIM is ideal for iPads, tablets and portable WiFi devices as its a data only SIM (no voice or SMS). Use this international data SIM card to slash the cost of data roaming worldwide. Order your free data SIM now!

• Get prepaid internet at very low costs in 188 countries
• 4G speeds in countries that offer 4G
• Reduce your data roaming charges by up to 95%
• Compatible with all unlocked devices & all SIM sizes
• Prepaid credit never expires
• Add a data bundle to get even lower data rates
Select the amount of credit you would like. Up to 15% discount available now. The more you add the cheaper the price!
Browse data in...
Just for: $0.12/1MB
Calculate your approximated data bill:
0.12/1MB
The rates displayed above relate to our new data sim product only. Data is billed in 1MB increments.
OVERVIEW
More perks of the WorldSIM 4G Data SIM

Save more with international data bundles
You can add up to 1GB data bundle to this data SIM in over 100 countries to get even lower data rates. If you are a multi destination traveller our Europe, Asia and global data bundles mean you can use one bundle for all your data needs.
Reduce the fuss
Forget having to switch your phones SIM cards and instead use out worldwide data SIM in a mobile hotspot or tablet so you can reduce the cost of data roaming and browse the web in 188 countries. To make calls and send SMS you can use apps like Skype and What's App.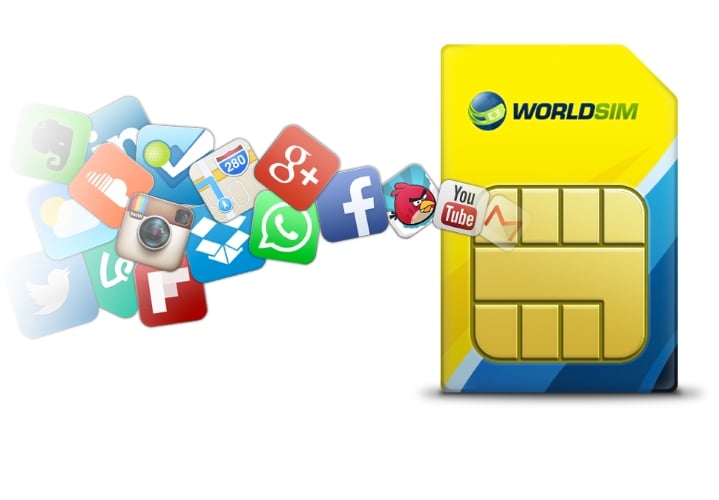 FEATURES
Low cost worldwide data
Our prepaid internet rates are up to 95% less than other providers so you can browse the web while you travel without having to worry about extortionate data roaming charges.
Manage your costs easily
Unlike contract SIM cards, our prepaid internet SIM will not enable you to over spend. Simply add a bundle which is valid for up to 30 days or add prepaid credit (which only expires if you don't use the SIM once a year). You can stay in control of your costs by logging in to see your online billing.
Top up anytime, anywhere
You can top up 24 hours a day, anywhere in the world. Top up online, over the phone or set an automatic top up.
Works in any device
Use it as an ipad SIM card, in a tablet or in a mobile hotspot! Our global internet SIM cards are compatible with all unlocked devices including iPads, tablets, WiFi Hotspots, laptops and all our data roaming gadgets. Simply insert the Data SIM Card into your device and start browsing the web immediately. FYI You will need to manually select a network in some countries in order to get the lowest rates.
3 SIM Sizes Available
The WorldSIM Data SIM is triple punched so its 3 SIM sizes in one (standard, micro and nano). It works in all unlocked devices and it's suitable as an iPad SIM card.
Data coverage in 188 countries
We have negotiated low cost data roaming rates in 188 destinations. This includes all of the popular destinations for both leisure and business users. Get 4G speeds in all countries that offer 4G.
24/7 customer service
If you need assistance at any time, we are available 24 hours a day. You can call us, use live chat, email us, talk to us on social media (not 24 hours) or use our FAQ's.
Easy to use
The WorldSIM Data SIM card is so easy to use and with your online account you can check your balance, top up, set an auto top up and get immediate assistance if you need it..
Understanding your data consumption...

Static
web pages

Dynamic
web pages

Text
emails

Emails with attachments

Music
files

Video
files

Skype voice call

Skype video call

Radio



Apps



15
MB

151
pages
45
pages
15,151
e-mails
30
e-mails
3
songs
2
min
27
min
3
min
44
min
2
app

500
MB

5,000
pages
1,500
pages
500,000
e-mails
1,000
e-mails
100
songs
60
min
900
min
120
min
480
min
80
app
Read our Award Winning Travel Blog
Discover unique destinations, read about the best travel apps and smart money saving tips
What our users say about our International Data SIM Card
See what people are saying about our SIM card and our service