OVERVIEW
Features of the WorldSIM Fitness Watch

Measure Your Fitness
This watch comes with a built in heart rate monitor, pedometer, sleep monitor and sedentary reminder to help keep you active and monitor your progress. It also has a tracking function for monitoring your sleep, calories. You can use the games record function for Cycling, Skipping Sit Ups etc. and sync the data for upto 7 days.

Use it as a phone notifier

Get notified when you receive calls and SMS messaages as the Fitness Watch can sync with your phone.

Entertain yourself
The WorldSIM Fitness Watch will allow you to listen to music thanks to its built-in speaker.
What's Included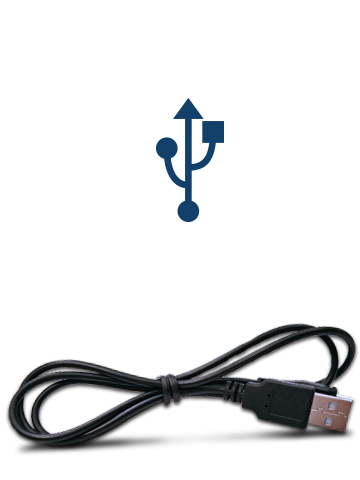 USB Cable
Use the included magnetic USB cable to charge the watch from your laptop, or using a plug adapter to charge it from the mains. With the 100mah battery you will get 7 days standby time so you won't have to charge it very often.
FEATURES
Track Fitness
Measure and track your fitness with the Pedometer, Sleep Monitor and Sedentary Reminder. You can also add the sports you have done to see how many calories you have burnt.
iOS/Android Compatible
Monitor all your activities using the dedicated iOS or Android app.
Bluetooth
Connect the fitness watch to your phone in order to receive Calls and SMS notifications and listen to music.
Battery Life
With a battery capacity of 100mah the battery life of the WorldSIM Fitness Watch is impressive, giving you 7 days standby time.
Waterproof
The WorldSIM Fitness Watch is has a rating of IP55 which means that it's protected from dust and splashes of water.
Extras
Use the Fitness Watch as an alarm and watch, there is also a phone book and the ability to play music.
Heart Rate
Make sure you get the most out of your fitness regimes without straining yourself with the built in heart rate monitor.
Lightweight

The WorldSIM Fitness Watch is comfortable, slim and lightweight.
Full technical specifications
System
Chip: Nordic nRF51822
Sensor: kx022-1020
Connectivity
Bluetooth: 4.0
iOS: iPhone 4s & above or iOS 8.0 & above
Android: 4.3 & above
General
Call Reminder: Support
Clock: Support
Heart Rate Monitor: Support
Anti-Lost: Support
Step Pedometer: Support
Distance: Support
Addtional Sports: Support
Alarm: Support
Music Sync: Support
Phonebook: Support
Sleep Monitor: Support
Sedentary Reminder: Support
Battery: 100 mAh
Standby: 7 days
USB Port: Mini USB 5 pin interface
Colour: Black
Waterproof: Yes, IP55
Weight: 42g
Read our Award Winning Travel Blog
Discover unique destinations, read about the best travel apps and smart money saving tips
What our users say about this product

Hear about people's experience with this product, the SIM and our service