For a small island, Sicily is absolutely packed with exciting things to see and do, making it an excellent holiday destination this summer. These are just some of our favorite things to enjoy while you are there…
Visit Sicilian Nature Reserves
Sicily has various nature reserves; amongst the most unusual is Maccalube. Here you can see a field of small mud geysers, unique to Italy.
Take a Boat Trip
Spend a day on a sailing boat and absorb some of the sights by sea. See the medieval lava castle, Ulysses ' Caves and the Acitrezza marine reserve. Kayak around the Cyclops Islands and you might even be lucky enough to spot dolphins.
See Ancient Ruins
Sicily is bursting with Greek ruins; one place well worth a visit is Taormina. This attractive town is perched on the side of a mountain and is home to the ancient ruins of a Greek theatre; well preserved the theatre gives amazing views of Mount Etna and also has a lovely beach.
See Volcanic Activity
Take a ferry to Vulcano, a volcanic island where you can see yellow sulfurous baths and volcanic craters. This is a beautiful island that you can visit yourself or as part of a tour.
Climb a Volcano
There are several volcanoes you can climb, Mount Etna is the most famous. There are two main routes to climb this active volcano, both give magnificent views. Choose to walk, take the cable car or go by jeep – or a combination of all three. Mount Etna is considered a sacred mountain and has stunning panoramas from which you can see the complete landscape of eastern Sicily.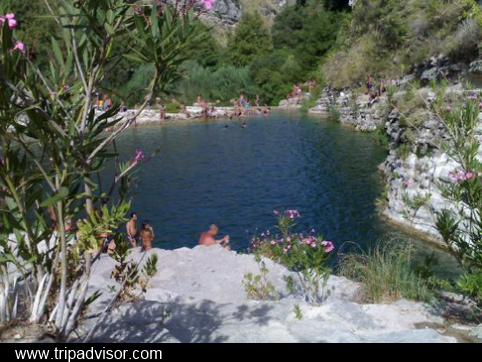 See Waterfalls
Explore steep canyons and a complex system of small waterfalls and natural pools; Cavagrande Cassibile Canyon is a fantastic place for a swim and has many interesting rock formations and trails for walking.
Swim in a gorge
The Gole dell' Alcantara is a beautiful gorge that is the ideal place to cool down in the summer heat. With fantastic swimming holes, waterfalls and walking opportunities it's well worth a visit.
Explore the Beaches
Take your pick of gorgeous beaches – we love the stunning white sand beaches head of Lípari, one of the Aeolian Islands and Fontane Bianche (about 15km from the city of Siracusa). For something a little different head to Scala Dei Turchi which has beautiful white limestone cliffs that are naturally shaped like stairs.
Enjoy Wine tasting
Sicily is known for its fantastic wines and there are various vineyards you can visit. From wine tasting in a volcanic amphitheater to wine tasting on Mount Etna there are some very unique flavors to savor!

Get free international roaming in Italy with the WorldSIM travel SIM card. Find out more