Are you looking for an unusual type of holiday destination to go to? If the thought of going to see common and popular landmarks such as the Eiffel Tower or Big Ben does not appeal to you, then read on to discover some quirky but exciting places!

Pancake Rocks, New Zealand
Located on New Zealand's South Island, Pancake Rocks sits on the western edge of Paparoa National Park. Layers of limestone and sandstone gathered on the ocean floor. The sandstone was softer than the limestone, and it began to erode. As this process occurred, rock outcroppings that resembled stacks of pancakes began to form. Of course, this did not happen overnight, the process began 30 million years ago.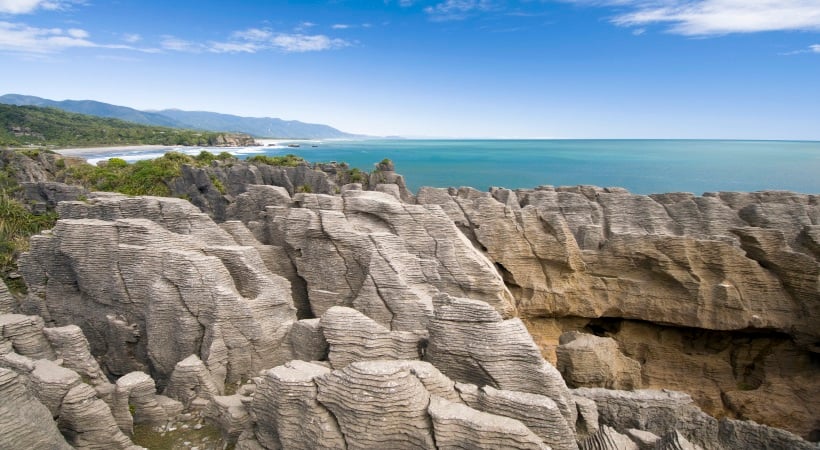 Sichuan,China
The Leshan Giant Buddha is located in Sichuan, China. It was carved into the mountainside, and is two hundred and thirty-three feet tall. The Giant Buddha was carved in the 8th Century and is one of the largest well known Buddha images in the world. While in Sichuan, be sure to stay at the Panda Inn featuring the panda image everywhere including on the walls and the furniture. For added fun, the staff also dress as pandas.
Icehotel, Jukkasjarvi, Sweden
If you are unafraid of a little cold weather, then this place may be the ideal destination for you. Although there are ice hotels based in Finland, Québec, Canada, Norway and Romania, the hotel at Jukkasjärvi, Sweden (located almost 124 miles above the Arctic Circle and known as the Ice Hotel) is the oldest and most famous out of these frozen inns.
The hotel is made almost entirely from ice, and runs only during the winter months, after the summer meltdown it needs to be rebuilt. Here guests sleep on beds that are made from ice. There is also a church, main hall, and a bar made from ice. The glasses in the bar are also carved from ice. The experience of staying in one of the world's biggest ice hotels is truly a unique one for any type of traveller.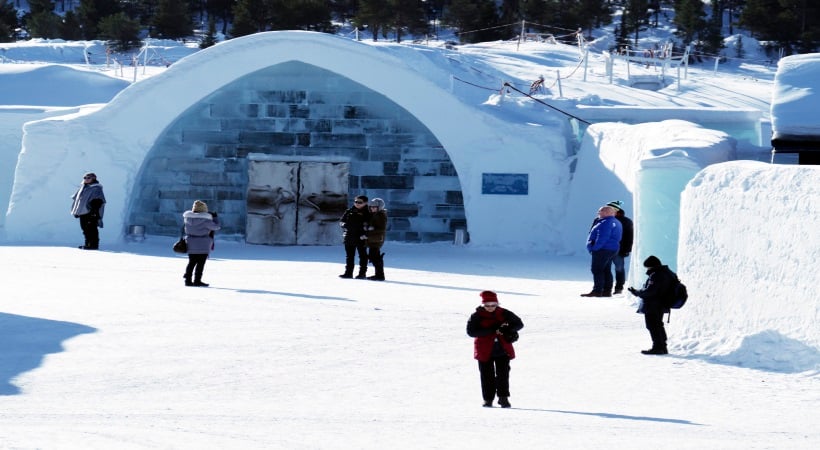 Ithaa Undersea restaurant, Maldives
If you ever wanted to experience dining with a fish, then the Conrad Maldives Rangali hotel at the luxury Maldives resort could be worth a visit. This hotel has a restaurant called the Ithaa Undersea Restaurant, and offers lunch and dinner. The restaurant is located 16 feet below sea level. The sides and roof are made of clear glass, allowing guests to be surrounded by sea life as they eat. As the restaurant only has 12 seats it may be best to make reservation to avoid disappointment.
Glass Beach, California, USA
This gleaming sea glass beach in California is an impressive side effect of years of rubbish being dropped on the beach. It wasn't until the 1960s that this was stopped and by then the sea was full of everything from electrical appliances to bottles and cans. Over time, the waves broke everything down into bright pebbles and the beach became a huge tourist attraction. It is now ironically under threat because visitors are taking home the glass.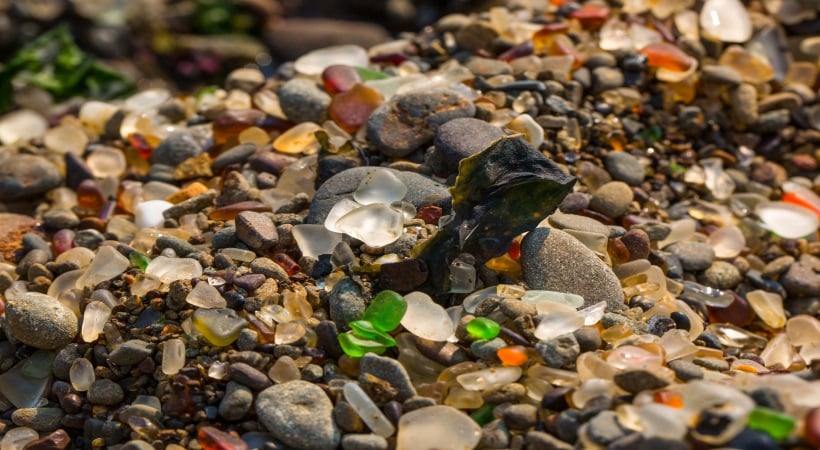 Cancun Underwater Museum, Cancun
In the ocean, just off the coast of Cancun is the Cancun Underwater Museum. The museum features more than 400 life size sculptures. This place is truly a unique experience, and the underwater sculptures were made from materials to promote the growth of coral. On the sea floor, the sculpture of a man sits on his couch watching television, while schools of fish swim by.
Pamukkale Thermal Pools, Turkey
In some places, the Pamukkale Thermal Pools look like fields of cotton balls. The name translates to cotton castle. The thermal pools are filled with natural hot spring waters and cascade down inclines to various tiers. The thermal pools are more than a great way to relax or spend the day swimming.

Travel Cheat Tip: If you want to take photos of these breathtakingly beautiful thermal pools and send them to loved ones and friends, you may want to consider buying a data SIM card before your trip, such as a local SIM or from any data SIM provider. This may be the best option to reduce roaming charges and can be especially worth it for those who often travel. If you decide to buy a local data SIM card, you will have to use a different number.
Dean's Blue Hole, Bahamas
Blue holes consists of fresh water, seawater, or a mixture of both water types that extend below sea level. The name blue hole comes from bright blue color that can be seen from above the hole. Dean's Blue Hole located on Bahamas' Long Island is the deepest in the world. It has a depth of 600 feet.
Glow Worm Caves, New Zealand
Every year, loads of travelers come to Waitomo, New Zealand to see the infamous glow worms that line the ceilings of the nearby caves. The glow worms emit a phosphorescent glow that shines from the roofs of the caves like a starry night.
The interesting thing about the glow worms is that they aren't really glow worms. They're fly larvae, and what glows is their waste. The larva glow to attract prey into its threads by making the prey believe they are outdoors as the roof of a cave looks much like a starry night. Hungry larva glow brighter than ones that have just eaten. There are a few ways to see the glow worms. There is the three hour black water tubing trip, the five hour trip that includes abseiling and climbing or a boat.
Avenue of the Baobabs, Madagascar
The Avenue of the Baobabs is a striking group of baobab trees lining the dirt road. It is situated between Morondava and Belon'i Tsiribihina in the Menabe region located in western Madagascar. Its extraordinary landscape draws travelers from around the world, making it one of the most visited locations in the region.
Along the Avenue are about twelve trees all around 30 m (98 ft) in height, of the species Adansonia grandidieri. Baobab trees, up to 800 years old, are a legacy of the dense tropical forests that once thrived on Madagascar. Over the years, as the country's population grew, the forests were cleared for agriculture, leaving only the baobab trees, which the locals preserved as much in respect as for their value as a food source and building material.
Red Beach, Panjin, China
This cool and strange beach is covered in a type of seaweed called Sueda, which turns bright red in autumn. Thirty kilometres southwest of Panjin, these tidal wetlands are an important nature reserve for migrating birds. Only a small section of the beach is open to the public, but it can be explored via a wooden walkway that stretches out to sea.
Spotted Lake, British Columbia, Canada
Spotted Lake has long been revered by the native Okanagan (Syilx) people and it's easy to see why they would think of it as sacred. In the summer the water of the lake evaporates and small mineral pools are left behind, each one different in colour to the next. The unique lake can be viewed on Highway 3, northwest of the small town of Osoyoos, even though visitors are asked not to trespass on tribal land.
Cat Island, Japan
Tashirojima is a short ferry ride from Japan's east coast, and has a population of one hundred humans who are vastly outnumbered by these furry creatures. Originally the cats were encouraged as the island produced silk and mice are a natural predator of silkworms. Local fishermen saw them as good luck and the island even has a cat shrine, along with recently built cat shaped cabins for tourists to stay in. It goes without saying that there are no dogs in sight or allowed.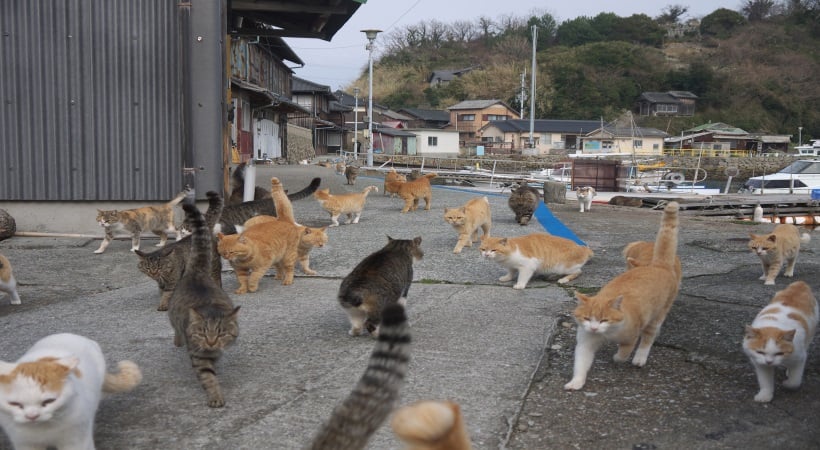 Worldwide Data SIM Card
If you are planning on travelling to any one of these destinations, you may want to consider using a Data SIM card. This SIM card can be used with iPads, tablets and portable WiFi devices. It is easy to use and all you would have to do is to add a data bundle, to get lower date rates. This data SIM card allows you to cut the cost of data roaming charges by up to 95% if you travel anywhere worldwide. Other benefits of data SIM card includes prepaid internet at very low costs in 188 countries, its compatible with all unlocked devices & all SIM sizes and you can purchase prepaid credit that will never expire.
See more at: https://www.worldsim.com/data-sim-card
data-sim-card- travel gadgets-data-roaming-travel-accessories-portable hotspots-travel-tech-travel essentials