Bodiam Castle, East Sussex, England
It's hard to believe that this mighty beast of a castle was built in 1385 – until you go inside and you kind of get the gist! Travel back in time and see a grand medieval tournament complete with jousting on Saturday 10th or Sunday 11th August from 10.30 am to 5 pm.



Neuschwanstein Castle, Bavaria, Germany
Originally built as a Palace for Louis II of Bavaria, AKA Mad King Ludwig, Neuschwanstein Castle is situated in Hohenschwangau in southwest Bavaria. This masterpiece was way ahead of its time and had running water, heating and automatically flushing toilets on all floors. (If you're off to Germany we just reduced our Europe rates!)
Swallow's Nest, Crimea, Ukraine
This fairy tale castle is located on the Crimean peninsula in southern Ukraine. Perked on the very edge of a cliff this small but very impressive the Swallow's Nest is now home to an Italian restaurant!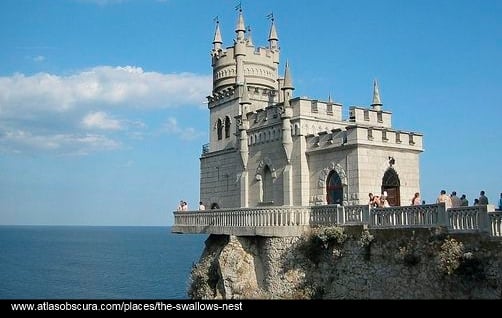 Draculas Castle, Transylvania, Romania
Transylvania - Just the name of it sounds exciting! Sat in between the Bucegi and Piatra Craiului Mountains in Romania, this legendary castle has a labyrinth of secret passages and hidden chambers. If you are planning on visiting Romania your WorldSIM card can receive calls for free and send a text for just 6p with our travel SIM card.