If you have received your travel SIM but are having problems setting up, or are experiencing any difficulties, these troubleshooting tips will help....


The Location Menu Didn't Pop Up
Don't worry, if the location menu doesn't pop up you can go into your applications and select the 'SIM Services' app. This icon is marked with a red box in the image below. Then click 'Select Location.'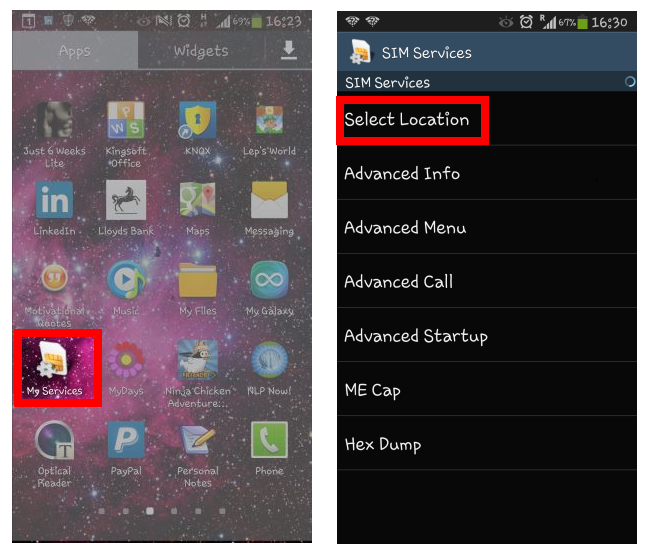 You don't know what location to choose
Once the location menu pops up you will need to select the location you are in, select:
UK – For the UK
USA – for the USA, Canada, and Mexico
Euro Zone - for All of Europe except Belgium (that's the Global profile)
For everywhere else select Global (unless we have asked you to use the 'Special' or 'Premier options').
Important: If you select the wrong location, you may be billed incorrectly. This could, therefore, result in you being charged at a higher rate. You can see the full list of countries, rates, coverage and location settings on this PDF document.

Your credit ran out quickly
Our ultra-low rates are usually with just one or two mobile networks in each country – we always have a preferred network provider. In order to benefit from the absolute lowest possible rate, you will need to manually select our preferred network partner.

Use this PDF document to see what our network partners are for the country you are traveling in, then select that network manually, using the instructions below:
1. Each handset is slightly different but there should be a networks/connections option in your settings menu.
2. From here you need to click on 'Mobile Networks' then 'Manually Select Network'.
3. Navigate to the preferred supplier in the country you are traveling to and select it.
You don't have a data connection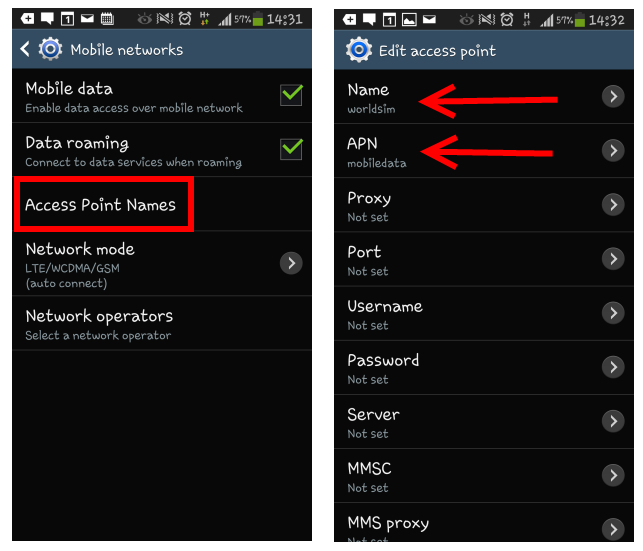 1. This is easy; all handsets are a bit different so the name of menus and settings will vary. Find the settings in your phone and navigate to the networks/connections menu.
2. Within the options should be 'Mobile Networks' you then need to find the option for 'Access point Names'. It may also be referred to as 'APN'.
3. Create a new APN. Set the Name as 'WorldSIM' and the APN as 'mobiledata'. Leave all the other fields blank. Need more help?
You are trying to make a call and you get cut off
In many destinations like Europe, USA, Australia, Indonesia, India and Singapore, and Canada calls on your travel SIM card will dial through as usual, however, in some destinations we use call back technology. Once you have dialed the number your call will be terminated. Ignore any error messages. Your phone will make the connection to the number you dialed and start ringing after a few seconds. When you answer the call you will be connected to the person you were trying to reach.

If you need more help there are loads of ways to contact us. The quickest way is s to login and clicks on the Self-Service Hub – you'll get answers in seconds!


Get more help on our YouTube channel. Subscribe now!